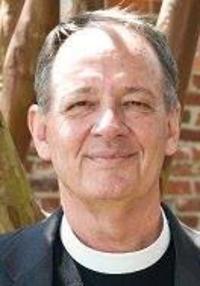 [ad_1]
[Editor's Note: This column originally appeared Nov. 11, 2017.]
In the Gospel of Matthew 18: 21-35, we read a story about a servant who owes his master so much money that would be impossible for him to pay for his life. The master planned to recognize his money by selling a man, his wife and children. The man begged forgiveness of the debt and received it.
As it turned out, when it came out, the maid went to his servant who owed him "a couple of dollars." Number one officer seized the number two and asked for money. The man prayed for mercy and his colleague threw him into prison. Most of us know the rest of the story. He threw the first servant into a prison from an angry master who showed him mercy, forgiveness.
Jesus told this story in an attempt to show us that forgiveness is a two-way street. "Our Father, who is in heaven, hallowed be thy name … forgive us our errors, for we forgive those who overpower us (sin)" (Matthew 6: 9-13)
Our "hero" apparently did not understand this simple lesson. He certainly understood the desire to forgive his part and his character for him. It looked as if it was missing or there was no concern about "how we forgive those who violate us". I was thinking a lot about it and wondering why he only acted on what he was forgiven: did he just not understand? Just do not worry? Would you like to have a cake and eat it? Could he not create a connection between forgiveness and forgiveness? Or, in Jesus' parable, he was "to everyone and everyone, showing us how easy it is to accept forgiveness, and yet we do not understand that we must forgive."
Remember how Matthev started this passage. He began with his disciple Peter, seeking Jesus for forgiveness, about how often he should forgive his brother or sister. I do not think Peter got the answer he hoped. Peter hoped for the final number "7." Jesus basically gave him an endless number ", 77." And, in the event that Peter (and others) missed the thing, he replied with the story, as he often did, with the story we were just watching.
So why is it easier to accept forgiveness than to forgive? Maybe we believe that we are right in the first place and we only receive what we deserve; or, we are not ready to accept our role in the conflict, our mistake, our sin. Last week I attended workshops for the priesthood of the Episcopal diocese of Alabama called "Leadership in Anxiety Times". The leader, Menomonite, reminded us that in any church conflict all parties played a part and no one is completely free responsibility. My mind and feelings immediately returned to the conflict in which I was involved and after that I resigned my pastor. Whether I am a victim, whether the church is a victim, could I have done something different, could the church do things differently? The answer to all these questions is yes. Would the results be different: perhaps, maybe not. I could still resign from my position; the church could still be divided, but healing might have become easier for everyone who was concerned, and we all could easily learn a lesson about how to react and function the next time we find ourselves Situation.
The best example of forgiveness I have ever witnessed, and the model for most of these efforts in the world today is the Truth and Reconciliation Commission in South Africa, formed in 1994 at the end of the apartheid segregation in that country. Anglican Archbishop Desmond Tutu led the commission and was designed to tell those who lost family members, property and homes to those who committed these crimes as being affected by their lives. The perpetrators who wished them were given the opportunity to respond and request forgiveness. This process opened the way for a peaceful transition in South Africa and provided people and the nation with hope for the future. Archbishop Tutu later wrote the book No Future Vithout Forgiveness.
I leave you with a prayer and a letter:
Prayer of St. Francis
Lord, make me an instrument of my peace,
Where is hatred, let me shine the love;
where there is injury, pardon;
where there is doubt, faith;
where there is despair, hope;
where there is darkness, light;
where there is sorrow, joy;
O Divine Teacher, grant me that maybe I do not want to settle down so much as to console; to understand how to understand; Be loved as he likes.
For this is what we receive; in pardon is that we are pardoned; and dies we are born in eternal life. Amen.
2 Corinthians 5: 17-19
"So if anyone is in Christ, there is a new creation: all that is old is passed away: see, everything has become new! All this is from God, who reconciled us to Christ and gave us the ministry of reconciliation, that is, in Christ, God reconciled the world with himself, not counting their guilt against them, and entrusting the message of reconciliation to us. "
Ben Alford is the shepherd of the Christian Episcopal Church.
[ad_2]
Source link