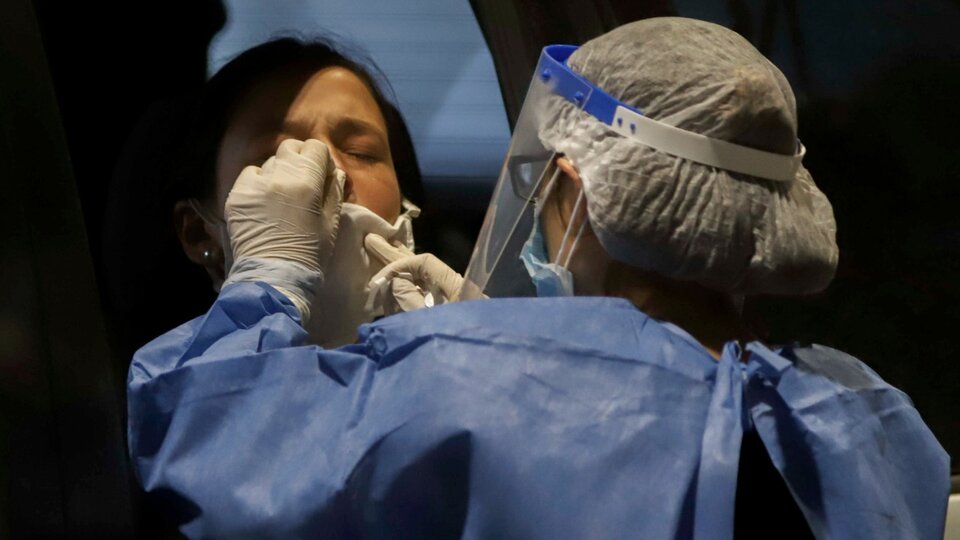 The report of the Ministries of Health confirm 124 new deaths from coronavirus patients in the last 24 hours, bringing the death toll in the country to 55,858. In addition, they were registered 16,056 contagion, According to the portfolio report commissioned by Carla Vizzotti. With these records, they add up to 2,348,821 cases since the pandemic began.
On the other hand, 56,334 tests were performed on the day and since the beginning of the outbreak, 8,880,480 diagnostic tests were performed for this disease.
There are currently 3,638 people hospitalized in Intensive Care Units: UTI beds are 55.9 percent occupied nationally and 61.3 percent in the Buenos Aires Metropolitan Area.
Province / Confirmed of the day
Buenos Aires 8063
CABA 1707
Catamarca 79
Chaco 175
Chubut 215
currents 291
Córdoba 1260
Between Rivers 299
Formosa 175
July 76
La Pampa 89
La Rioja 72
Mendoza 521
missions 134
Neuquén 140
Black River 150
Salta 153
Saint John 179
Sant Lluís 203
Santa Cruz 195
Santa Fe 920
Santiago of the Matting 128
Land of Fire 84
Tucumán 748
The full report
PART OF HEALTH SITUATION – SARS COVID 19 – ARGENTINA MARCH 31, 2021
1. VACCINATION PLAN
➡️ Total Applications: 3,986,118
➡️ Vaccinated with 1 dose: 3,306,877 people
➡️ Vaccinated with 2 doses: 679,241 people
2. DOSAGE DISTRIBUTION
➡️ Total doses distributed in jurisdictions: 5,102,345
More info on Public Vaccination Monitoring: https://www.argentina.gob.ar/coronavirus/vacuna/aplicadas
3. POSITIVE CASES
➡️ New cases registered in the last 24 hours: 16,056
➡️ Total confirmed cases: 2,348,821
➡️ Active confirmed cases: 190,347
➡️ Recovered patients: 2,102,616
4. DEATHS
➡️ Deaths reported in the last 24 hours: 124
➡️ Total reported deaths: 55,858
5. testing
➡️ tests performed during the day: 56,334
➡️ Total tests performed: 8,880,480
6. DATA OF CRITICAL CONTEXT IN HEALTH ESTABLISHMENTS
➡️ Current total number of patients admitted to the ICU: 3,638
➡️ Current occupancy of UTI beds in the country: 55.9%
➡️ Current occupancy of UTI beds in the AMBA: 61.5%
Source link