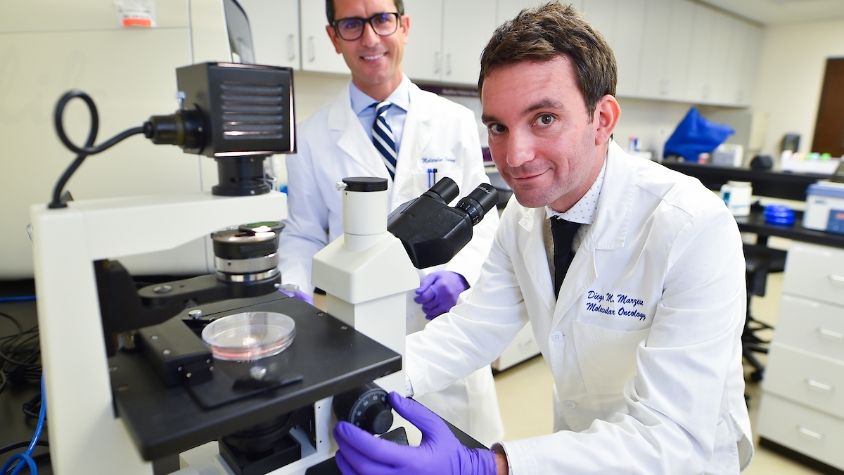 [ad_1]
Diego Marzese and Javier Orozco are researchers and health workers working tirelessly in the search for effective cancer treatments. Ten years have led them into the study of brain tumors, and a week ago they have been recognized worldwide. In a dialogue with the MDZ, they talk about what they are doing.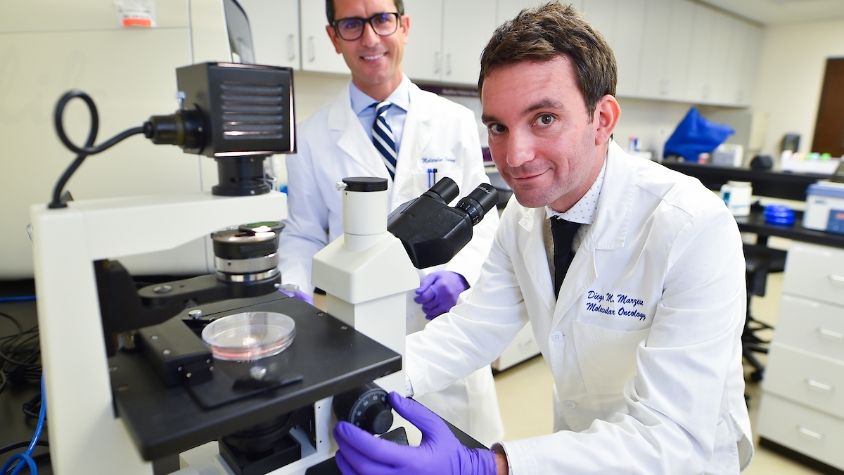 Cancer is a complex disease. Sometimes the reasons for its occurrence are not known, treatments are not effective, and that's when the continuous search for more information begins.
A week ago, Nature Communications magazine published an investigation by Mendoza Marzese and Javier Orozac of Mendoza about brain tumors that left the science of argentine at the top.
Experts have studied how these tumors stimulate, so the treatment that follows is more effective. The investigation began in 2008, but was carried out with even more force in 2013. 165 cases of patients with brain tumors including brain metastases from breast cancer, lung cancer and skin cancer have been analyzed.
Currently, Diego and Javier live outside the country. First, in Spain, and the other in the United States. They agree to describe the reality of Argentinian science as "critical". Researchers say there are few resources or problems when paying scholarships. They also emphasize that science is essential for achieving a "Intellectual independence" earth.
Marzese was trained as a researcher in molecular biology, and Orozco is a medical oncologist. Both have decided to bet on continuous training and community service, in order to create knowledge that becomes important for all those who suffer from this disease.
– How long did the investigation and publication last?
-Diego Marzese: In particular, the idea of ​​research that was just published in brain metastases began to form in 2013, after publishing the first epigenetic map of progression of skin cancer. However, our research began in 2008 in Mendoza, a project aimed at studying nearly 110 breast cancer patients. This research conducted between the Cuio National University, IHEM and IMBECU was directed by doctors Maria Roque and Laura Vargas Roig, who managed to install and carry out an investigation of this type in Mendoza with an idea that is so unconventional at that time. But she also had a collaboration with an excellent medical group of the Italian hospital and the Gineco-Mamari Institute, which included doctors Francisco Gago, Olga Tello and a resident who in his second year of specialization in Tocoginecology Javier Orozco said that 10 years later he was the first author published studies. For me, what Javier did, suspending clinical practice to enter the basics of basic-translation research, is an excellent example of not stopping learning and continuing medical education.
– How is the state of science and researchers in Argentina?
-DM: Although I have not had the opportunity to actively explore in Argentina for a long time, I have many colleagues with whom we share friendship or research projects and their experiences. My opinion is that the situation is critical. Or because of lack of funding or due to delay in payment of research projects allocated for months. What hurts most is an attempt to discredit scientists and Argentinean scientists. And I think it has been achieved to a certain extent, trying to convince ourselves that research is not important in our country, or that those dedicated to research spend time and less resources in the country. In my opinion, there is nothing more wrong than this thought, it is only necessary to see how countries that want a sustainable financial situation reinforce scientific research and thus generate intellectual "independence."
-What do you mean when you see your published research? And in this particular instance, how does it help people and their health?
-DM: I mixed up some types of sensations. The first is a great emotion, a feeling that he has done a good job, even if it is not the end of the investigation; anxiety to know how the study will affect other research in the area, how it will be received, how it will be used to build something better. The second is the feeling of stress relief, looking back and watching the accumulation of sleep and lack of time for my family, friends, leisure, personal care, etc. It is true that I think that with each study there is a small life, closes and what remains trapped there, this effort and sacrifice will not come back. Fortunately, the first sensations prevail, and one goes to the next step of the research. At this time, both types of sensations are enhanced by the size of the magazines that have accepted the publication of the results, and we hope that we have what we have discovered or becomes the foundation for a precise diagnostic method for patients with metastatic brain, which ultimately allows the determination of the type of tumor and therapeutic possibilities, without the need for surgery. Although this is still a lot of work, we are on the road and in these studies we offer tools for us or another research group.
– Where and how are they currently working?
-DM and JO: The study was conducted almost entirely at the John Vaine Cancer Institute in Santa Monica, California. We had the cooperation of scientists from several centers in the United States and Australia, both to involve patients and to raise the analytical level of the study. Our idea, for the second phase of the study, is to apply these molecular classifiers to cerebrospinal fluid biopsies and in this way we really evaluate the actual clinical application of the system. For this phase it would be great to have cooperation with neurosurgical and neuro-oncology groups in our country, as well as experts in clinical studies, so that we can use the publication of our publication, we invite interested parties to take part in contacting us.
– Are you working on new investigations? What it is?
– DM and JO: Well, the investigation continues. We investigate how patients with triple negative breast cancer can hide from an attack of the immune system, become a kind of spirit, and survive treatments. This second project probably involves research groups Mendoza. We hope that both studies will be distributed as our recent publication.
-For people who may not understand the technical and scientific language, in order to sum up the research published in Nature of Communication?
-DM and JO: Studies published in Scientific Data and Natural Communications in order to characterize changes in tumor DNA with the diagnostic use of primary and metastatic brain tumors. A study published in the Scientific Data journal explains in detail how we succeeded in microsecting tumor cell populations, extracting genomic DNA from the three most common types of metastases in the brain, such as breast cancer, lung cancer and melanoma. A study published in NatureCommunications, apparently the most important of both, summarizes how we built, customized and validated BrainMETH, precise epigenetic classifiers that allowed discrimination between brain and brain tumors, between metastases in a brain of different origin and between brain metastases with different therapeutic subtypes, in patients with advanced breast cancer. We have adapted a laboratory technique known as methyl methacrylate-specific PCR, which requires only the analysis of epigenetic modifications of 12 regions of the gene, instead of about 500,000 initial regions. This technique was validated in this study in 165 tumors of the brain in patients with primary brain tumors or brain metastases.
[ad_2]
Source link