The media published a curious image that accounts for supposed ambitions in the world of politics.
---
In recent times, Alex Caniggia he built a character from the ostentation of the lifestyle that is supposedly in contrast to those who can not access it, to whom he calls "cheap".
Read more ► Fernando Burlando spoke about the present of Juan Darthés
In this sense, in the last hours published an image where replaces the face of President Maurici Macri for his and is in the company of Donald Trump.
"OFFICIAL COMMUNICATION: Argentina is getting cheaper and more envious every time. My brother #Donald recognizes me as the president of Argentina, to change the direction of our country, to Argentina's highest society. Donald Trump #ELMASPIJUDO, "he affirmed next to the image.
Read more ► Susana Giménez celebrates grandparents and receives a "special" greeting on the anniversary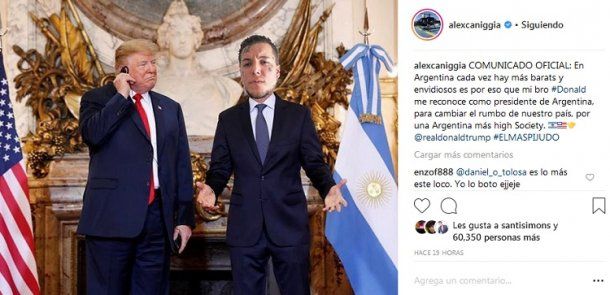 Source: www.ratingcero.com