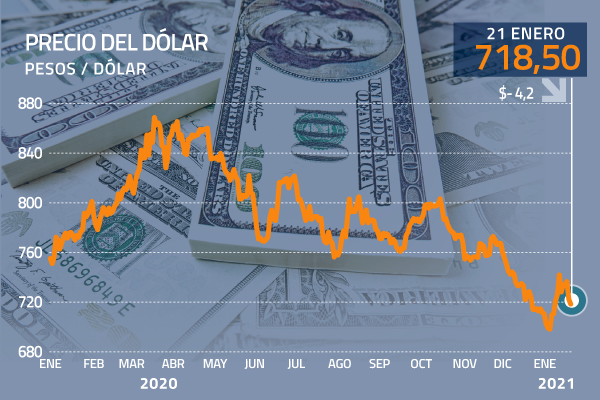 The price of copper is also gaining momentum and adding strength to the Chilean peso.
The exchange rate has not been alien to the market celebrations for the installation of Joe Biden in the White House. the Chilean peso closed the day appreciating, Dropping the US currency $ 4.2 from yesterday's close, standing at $ 718.5 in the local market.
The reason? Internationally one breathes one optimism with the arrival of Biden in the face of its $ 1.9 trillion fiscal stimulus plan it wants to push forward, encouraging the recovery of the U.S. economy.
Capitaria's head of Trading Studies, Ricardo Bustamante says that "these elderly stimuli that would be given with Joe Biden's current government in the United States, have again generated a weakening of the dollar, whereas the oversupply of the US currency should be maintained for much longer. "
In fact, the US currency is losing space globally. The dollar index – which measures the US currency with a basket of currencies – falls 0.24%, reaching 90,255 points.
XTB Latam's head of analysis, José Raúl Godoy, states that "the exchange rate is trading downwards, in line with the depreciation that the dollar has suffered globally. The new Biden administration has made clear the policy "Expensive fiscal policies and a Federal Reserve aligned with accommodative monetary policies are the main causes of the depreciation we have seen in the dollar in recent days." .
Admiral Markets chief analyst Renato Camps comments the falling dollar also "responds to this increase in appetite for risk alongside a positive sentiment on commodities."
This scenario of optimism has also caused the prices of commodities continue to rise. Copper closed higher on the London Metal Exchange, up 0.46% and reaching US $ 3,652 a pound, Cochilco reported.
Bustamante points out that "the positive data that have been known in China, especially at the beginning of the week with a gross domestic product and industrial production that exceeded the projections, continue to generate a scenario of greater progress for the metal, while that the economic recovery of this year also supports a strength in its price ".
Godoy points out that "the market has taken Biden's investiture with real optimism and this is reflected in the dollar and commodities, as we see copper recovering although trade tensions between the two countries do not cease with the new administration" .