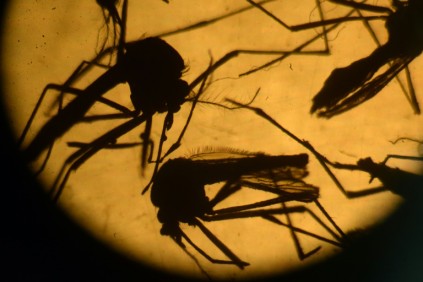 [ad_1]
The fight against malaria remains stagnant in the world and, despite that to a slight improvement in the rate of mortality, Twenty million people have been affected by this disease in 2017, the World Health Organization (WHO) said on Monday.
These data are included in the World malaria report for 2018, which relates to last year and was presented in Maput by the director of VHO Global Malaria Program, Spanish scientist Pedro Alonso, among others.
Read here: Lung cancer, the most deadly and least present in Latin America
"No one should die of malaria. But the world faces a new reality: as progress stagnates, we risk losing years of work, investment and success in reducing the number of people suffering from the disease, "said VHO Tedros General Manager Adhan Ghebreiesus in a report.
In 2017 they were registered 219 million malaria cases – from 217 million last year – and some 435,000 people lost their lives, compared to 451,000 deaths in 2016.
Of total fatalities, 266,000 were under five years old (61%), so that in 2017, more than 700 children died each day, equivalent to a malaria-killed diet every two minutes.
And the most advanced continent was once again Africa, where ten countries – along with India – account for 70% of all cases of malaria, about 151 million.
Of these, Nigeria, Madagascar and the Democratic Republic of the Congo are the countries that have grown to the greatest extent, with more than half a million new cases.
"We see a relatively small group of countries with a very high number of cases, like Nigeria, which accounts for 25% of the total malaria in the world," Alonso told a news conference in Maputo.
By contrast, India reported 3 million fewer patients, which is a decrease 24% compared to the same period in 2016.
"It is clear that we have to change the course and improve how we fight malaria, especially in those countries that have the greatest burden," Tedros said in the document.
The new anti-malaria strategy, published by the WHO in May last year with the support of the Roll Back Malaria Partnership, highlights the need to redirect political will – both nationally and globally – to improve resource allocation and increase funding, primarily national funds.
Despite this relative fall in the fight against disease, the report also highlights some progress.
WHO did not report 2017 there is no local malaria transmission in China or El Salvador, Nations in which this disease was long endemic, and the number of countries that entered its eradication – with less than 10,000 cases – increased to 46, two more than in 2016.
In addition, Paraguay came in 2018 certificate of countries without malaria, which is the first State of America to receive this status from Cuba 45 years ago; and Argentina is in the process of getting it because it did not register cases for 3 years.
Figures are also improving compared to the reference year, 2010.
Since then, the incidence of malaria (the number of new cases among vulnerable populations) has dropped by 18% worldwide, from 72 to 59 cases per 1000 inhabitants at risk.
The zones, with the exception of Southeast Asia, which continued to see a decline in their incidence rates, other WHO regions noted little progress or an increase in this rate, especially in Africa, with 219 cases per 1,000 inhabitants.
In the United States there has been an increase in incidence due to a large number of cases Brazil, Nicaragua and, above all, Venezuela.
"It's also an extraordinary number of cases registered on the American continent, as we see in Venezuela, but also in Brazil," Alonso said.
"Venezuela is experiencing a time of political and economic hardship that affects the functioning of the health service," the researcher said, reminding that "historically it was one of the countries that made the most progress in the fight against malaria."
The stagnation in financing the fight against malaria is, according to the WHO, one of the main burdens of progress.
In the year 2107, about $ 3,100 million was invested in the fight against this evil, which remained more or less stable over the past eight years, but which is insufficient to achieve the goals of the World Strategy for Malaria 2016-2030 (EMT). .
EMT seeks to reduce the incidence of deaths and deaths by 40% compared to 2015, for which it would be necessary to increase annual funding by $ 6.6 billion by 2020.
[ad_2]
Source link