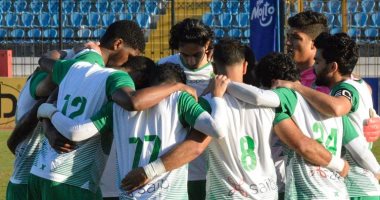 Al Ittihad Alexandria's team got an impressive victory at the expense of their guest Arab Contractors, with four goals to two, in the meeting that brought the two teams together this evening, Monday, in the seventeenth round of the competition. Premier League.
The Arab contractors advanced early in the fourth minute with a goal from Louis Edward, and it was confirmed after returning to video technology, and Al-Ittihad made a draw, defender Mustafa Ibrahim in the 23rd minute and Emmanuel Okoy went add the second goal for Sayed Al-Balad in the 35th minute, before Romario Williams scored the Union's third goal in the 37th minute. From the moment of the match, Youssef Al-Jorhi reduced the result with the second goal of the contractors in the minute 80, and Abdel Sami Simo added Al-Ittihad's fourth goal in a calculated time instead of losing in the second half.
With this result, Al-Ittihad of Alexandria jumps to second place in the table of the Egyptian league with a score of 28 points, after playing 17 matches, winning 8 matches, drawing 4 and losing in 5 matches, and their players they scored 22 goals and conceded 20 goals, however, the balance of Arab contractors freezes thirteenth place with a score of 15 points after playing 17 games, winning 4, drawing 3, losing 10 games, scoring 17 goals and conceding 25 goals.
The match between Al-Ittihad of Alexandria, its counterpart, Arab Contractors, was stopped for about 8 minutes during the first quarter of an hour due to the return to mouse technique in two goals scored by the Arab Contractors. the correction of the first goal while the second goal was canceled, so that Al-Ittihad was successful in the revolt and made great progress over the mountain wolves in the first half.
The formation of the federation was as follows: Goalkeepers: Mohamed Sobhi, defensive line: Damion Lowe, Sabri Raheel, Mohamed Abdel Ghani and midfield: Mr. Salem, Khaled Al-Ghandour, Ahmed Nabil Manga, Ammar Hamdi, Emmanuel Okoy, the offensive line: Razak Cisse, Romario Williams.
While the training of the contractors was as follows: Goalkeepers: Muhammad Abu Al-Saud, the line of defense: Basem Ali, Muhammad Samir, Farouk Nour al-Din, Ahmed Abdel-Aziz Zizou, and the middle line: Ibrahim Salah, Youssef Al-Shimi, Ahmed Al-Gohary, Karim Mustafa and the offensive line: Ahmed Dawoda, Louis Edward.
Source link