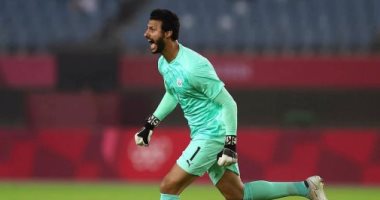 The media, Saif Zaher, said that the Saudi club Al-Nasr presented a new offer to include Al-Ahly goalkeeper Muhammad Al-Shennawi in the light of his brilliance, either with his team or with national teams. Time Stadium Program ": Muhammad Al-Shennawi is a very special case; Because all the scenes inside Al-Ahly are that club of Muhammad Al-Shennawi = Al-Ahly, and his heart is the Al-Ahly club and when he received an offer for the first time, he left the decision at the club and Al-Nasr made a new offer, but Al-Ahly joined Al-Shennawi and Al-Shennawi would stay with Al-Ahly.
He added: One day, I had a conversation between me and Al-Shennawi and I talked to him about offers, money and thinking about professionalism, and he answered me and said, I at Al-Ahly am different and I will focus on my future.
Al-Ahly's technical staff will decide the position of the Olympic hexagon, Muhammad Al-Shennawi, Akram Tawfiq, Taher Muhammad, Salah Mohsen, Nasser Maher and Ahmed Ramadan Beckham, of participation in the team's next match against Wadi Degla next Wednesday, after his return with the Japan Olympic team.
The position of the Six Olympics is determined from entering the list of the Tigris match after their participation in the group training of their team and know their physical condition, so they are included if their condition technique allows it or they are given a short negative break and are exempt from entering the Tigris match list and regularity in group exercises after the resumption of training after Wednesday's clash.
Al-Ahly's technical staff, led by Pitso Mosimane, refused to make an amendment to his party's program against Wadi Degla, which is scheduled to be held next Wednesday in league competitions, despite the announcement of the Football Federation of the date of the match. , after his decision to postpone the league; Due to the participation of the Olympic team in the Tokyo Olympics, before returning and setting the date for the remaining matches of the paper after the departure of the Pharaohs of the Olympic Games.
Source link