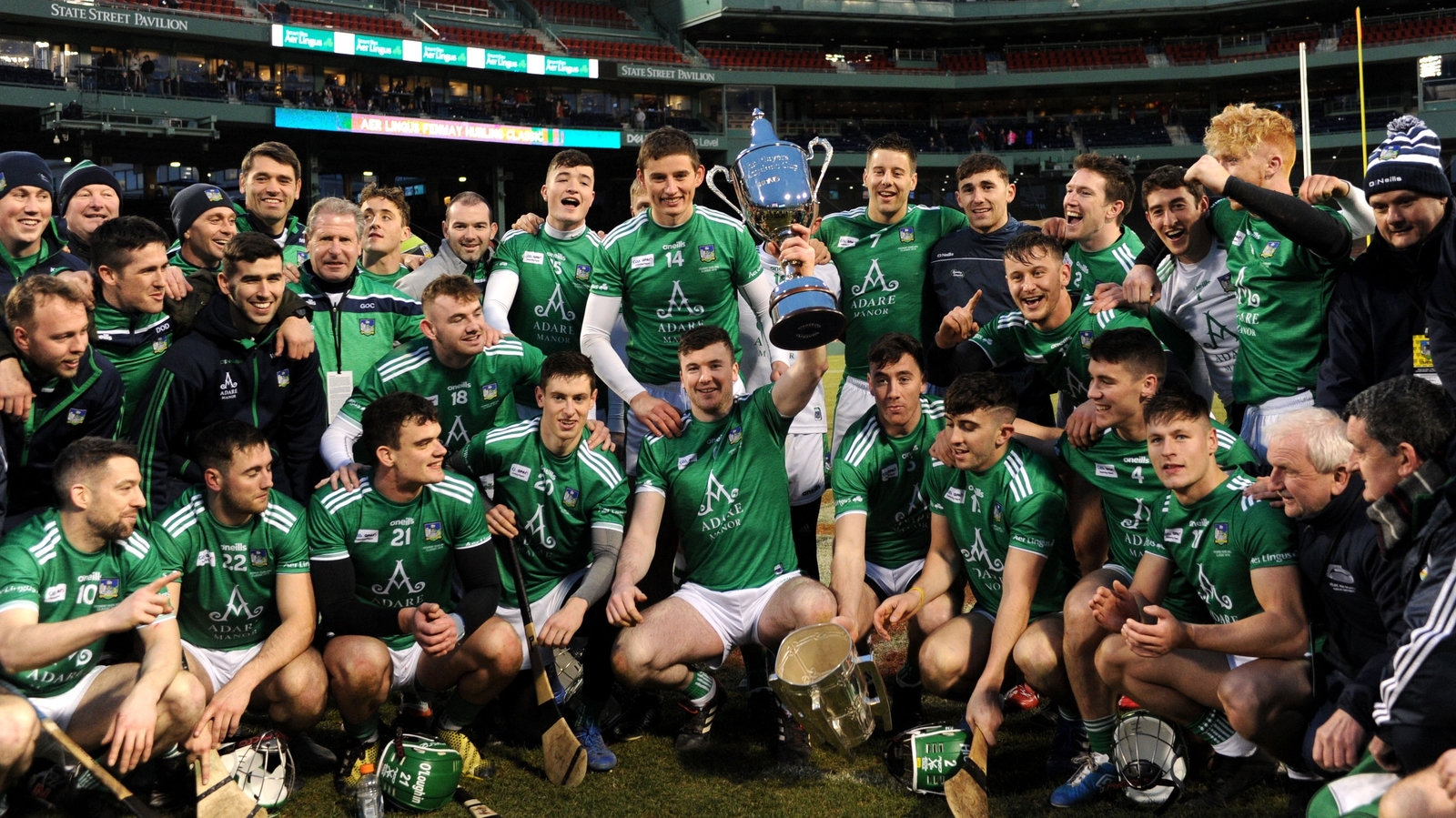 [ad_1]
Limerick 38-30 Cork
The All-Ireland champion Limerick completed a glorious year involving Aer Lingus Fenvai Hurling Classic.
Limerick never finished in the final as they were built on a glittering start to add a gaming championship to their trophy wardrobe.
The contract led to 24-13 in the afternoon, after eight minutes came into the lead of 21: 0, while John Kiel's husbands flashed the champions in Munster.
Cian Linch with a brilliant goal for 5 points @ LimerickCLG in the Super 11s finals pic.tvitter.com/GjDsSEvfmu

– GAA (@ officialgaa) November 18, 2018
Barri Murphi collapsed two five-point shots from short corners and after Tom Morrissei came in with two other goals, they pulled out far more clearly with excellent long-distance efforts from Hurler Cian Linch.
Cork eventually went off and Patrick Horgan shot home five pointers, and then added three more efforts.
But Kile Haies extended Limerick's advantage before Cork reduced the gap before the break when Shane Kingston found the net from a short angle to leave them in eleven boats in the interval.
They would be far behind that Anthony Nash did not produce a series of stunning savers who had a bunch of 12,674 feet.
Tom Morrissei and Bill Cooper exchanged three points after restart, and Patrick Horgan reduced the gap to 27-19, but goalkeeper Nickie Kuaid of Limerick was at the top.
Watch the time here @ LimerickCLG Super 11s Champions 2018 crowned pic.tvitter.com / 1ROKT5A99O

– GAA (@ officialgaa) November 18, 2018
Another long-distance effort from Linch expanded Limerick's leadership, with the effort of Andrew La Touche Cosgrave, who went 35-19 in the last quarter.
Conor Lehane and Cooper reduced the margin before Barri Murphy hit Limerick to seal victory.
Scorers – Limerick: B Murphi 13, C Linch 10, T Morrissei 9, K Haies 3, A la Touche Cosgrave 3. Cork: P Horgan 16, B Kuper 6, S Kingston 5, C Lehane 3
Limerick: N Kuaid, S Hickei, R English, S Finn, D Birnes, D Hannon, D Morrissei, C Linch, S Flanagan, G Mulcahi, T Morrissei, P Rian, B Nash, G Hegarti, K Haies, B Hennessi, A La Touche Cosgrave, O Reilli, Gillane, B Murphi, P O'Loughlin, L Lions, V O'Meara, D Reidi, C Rian.
Cork: A Nash, S O Donoghue D Cahalane C Spillane C Joice E Cadogan M Coleman B Cooper D Kearnei C Lehane S Kingston Meade O Mahoni P P Horgan, J Connor, E Murphi, R Flinn, V Kearney, D Griffin, D Brovne, J Coughlan, M Kolins, C Tvomei, S Murphy.
Referee: Sean Cleere (Kilkenny)
[ad_2]
Source link