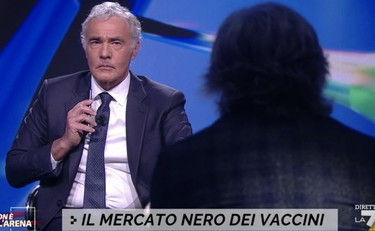 Invited by Massimo Giletti a It's not the Arena today Sunday, February 21 there is a mediator against the antiviral vaccine, which remains anonymous. On the table is the case of offers in some dose regions that triggered two investigations, one in Rome and one in Perugia, on the parallel market for vaccines.
The runner, shot from behind, explains his business based on mysterious overseas suppliers which have large quantities of Pfizer vaccine to be placed through channels other than official contracts such as those in the European Union. The mediator's story soon causes study guests to lose patience.
The anonymous guest talks about big drug dealers around the world who don't deal with governments, but to whom drug multinationals are linked by an addictive relationship. "A normal market situation," "not a black market" or criminal, says the broker who claims to offer the product 12.50 euros, fifty cents more than the amount paid forEuropean union a Pfizer, and therefore also prices would be "normal, market".
But the Covid vaccine is not just any drug, it has to go to the states for their vaccination plans. Pierpaolo Sileri, former Deputy Minister of Health, the umpteenth premise of the mediator loses patience: "We are not talking Viagra, but vaccines. "The trader is not upset: but for large drug retailers it's the same, Viagra or the coronavirus vaccine is the same." So if you have the vaccine, call Domenico Arcuri"SIleri urges. The other tries to confuse her:" But there is no will to let them come … "
However, the issue is different, how did the mediator give dose availability to his interlocutors? The question triggers the all-in-one. Luigi Crespi intervenes live, moves visibly. The voice comes from Giletti's cell phone through a speaker. He is the one who has focused attention on the matter after recording a meeting with the mediator invited this evening to It's not the Arena. Meeting that was reported in a report from A clean sweep. The confrontation ends in a fight with mutual insults: "shoe salesman, disappear, criminal, fool," the big words fly. Among other things, Crespi says the mediator proposed to him "homemade vaccine truck"that" had the vials in the fridge"The mediator replies that at ten o'clock in the conversation some simple jokes have been extrapolated and exploited and that the truth will come out.
The journalist Luca Telese He attacks: "You want to sell what Europe has paid 12 euros for 12.5 euros. It's not just fifty cents black bag as in times of war. "
The drug giant Pfizer intervenes live with a statement: "We do not sell roads on the private market." The twist would look like a tombstone in the seller's reconstructions. "What he says doesn't exist," Giletti wields. The mediator does not give up: "It is not a private or parallel market, yes commercial", whatever that means.
The only one who believes in the good faith of the mediator seems to be Silerius. "But if there are doses, go to Arcuri." "I sell raw materials. I go out into the world, look for it and send it to anyone who asks me. And the regions have asked me, if he had called me Arcuri, I would have dealt with him …" Here's a another turn, he would not have offered vaccines to some regions, but would have been contacted in turn. "In the regions there are people who have contacted me …". The mystery deepens, the sentence of Giletti it is an adjournment of the view: "Next week we will talk about it, we need to review some documents."