At first glance, it is an attractive product, but is it okay to buy it? An expert who excels at product controls cuts the good and the bad. This time, we'll evaluate the usability of a high-end Chromebook that costs more than 100,000 yen.
* The February 2021 issue of Nikkei Trendy was restructured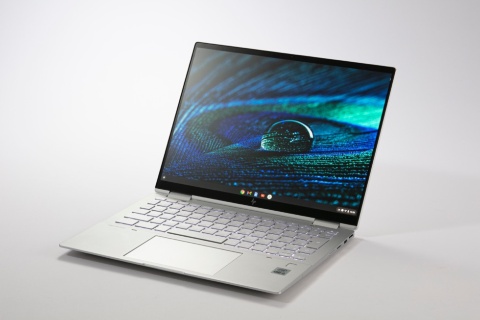 The HP Chromebook x360 13c has been tested
Chromebooks 'attention has grown rapidly over the past year. A corner dedicated to major consumer electronics retailers has also been created. There is no doubt that Corona was expected to be one of the terminals that can be used for telecommuting. In addition, Google, which provides the operating system, also focuses on sales promotion. Many people will have seen the TV ad in 2020.
HP Chromebook x360 13c 日本 HP
Real price from 128,000 yen (excluding taxes)
● Body size / width 295 x depth 216.9 x height 16.7 mm
● Weight / 1.36 kg
● 13.5-inch LCD screen / touch screen (1920 x 1280 dots)
● CPU / Core i3-10110U (2.1 GHz)
● Memory / 8 GB
● SSD / 256 GB
● Wireless / Wi-Fi 6, Bluetooth 5.1, W-WAN
● Battery life / approximately 12 hours
Chromebook is a portable device equipped with "Chrome OS" based on a web browser. The most important feature is that even products with low specifications can be used comfortably. "Any model can start in less than 10 seconds and can be used in the same way, regardless of the manufacturer" (Tomoyuki Moriya, product manager at HP Consumer, Japan) is the Chromebook.
The Chromebook has been sold in Japan since 2014, but for a long time there was a strong image that it was "cheap and reasonably useful, but difficult to use for work." However, recently, even in Japan, Chromebooks can be selected under the "GIGA School" concept and the presence for education is increasing and the number of products equipped with high speed CPUs like Core i3 has also increased. Let's re-examine the extent to which the latest Chromebook can be used.
Among Chromebook manufacturers, Japan HP focuses on high-performance types. This "HP Chromebook x360 13c" is also quite expensive for a Chromebook, starting at 128,000 yen without taxes. "We focus on mid-range and higher-end Chromebooks with 12.5-inch and larger screens. We planned the new product as a high-end product that can also do more advanced work" (Mr. Moriya)

Note) Compared to the price at the time of announcement. "HP Chomebook 14a" is not a rotating screen
As expected, the performance is high. Even the cheapest model tested this time uses the 10th generation Core i3 CPU. The high-end machine is the Core i7 with 16GB of memory, which is comparable to a poor Windows PC. It's very different from cheap Chromebooks with Celeron or Pentium. Even with the Core i3 model I tested, the response was incomparably better than the 30,000-yen Chromebook I had.
Because Chromebooks connect to the Internet and use web apps, I think the answer depends on the speed of communication. However, when you look at the web on a high-speed smartphone, it works just as well and there are also differences in CPU performance. When it comes to editing photos and videos and playing games, faster models are clearly easier to work with.
This content is for members only. You can see below when you request.
Of course, if you become a paid member, you can read all the articles.
① A database where you can search more than 2000 advanced cases
② Capture future events and predict consumption "Future consumption calendar"
③ You can read the latest issue of Nikkei Trendy and Nikkei Design digitally.
④ Latest video seminar to help you improve your skills
In addition, there are many services that can be used.
Source link