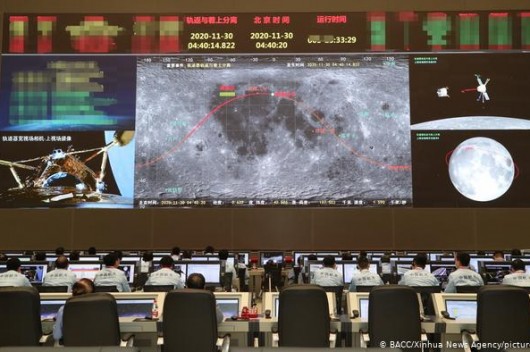 A Chinese space lab to collect rock samples landed on the moon's surface on Tuesday (December 1, 2020), according to Chinese state broadcaster CCTV.
The authority quoted a Chinese Space Agency source as saying that a laboratory on the "Chang E5" spacecraft, named after the Chinese moon goddess, "managed" to land on the moon's surface on Tuesday. The Chinese mission aims to obtain samples of rocks from the lunar soil and return them to Earth, for the first time in 44 years.
The only two countries that have achieved this achievement before are the United States and the (former) Soviet Union.
Chang'e5 was launched in late November from Weinchang Space Station on Hainan Island in southern China. And Chinese labs have successfully landed on the Moon twice before. After collecting the samples, the lab returns to Earth.
The Chinese spacecraft weighs 8,200 kilograms and is the largest spacecraft in the "Chang" fleet to date and consists of four units: the orbit with a return capsule and the lunar exploration laboratory with the ascent phase.
After placing it on the surface of the moon, the Lunar Exploration Laboratory is supposed to use a long arm to collect lunar rocks and sample holes up to two meters deep and store them in a dedicated cavity. . This procedure is expected to last two days, after which the return flight will have to be made.
The plan is to return to Earth about two kilograms of rock and other samples of lunar soil. The researchers hope the samples will provide new information about the moon's volcanic activity.
Source: dw.com