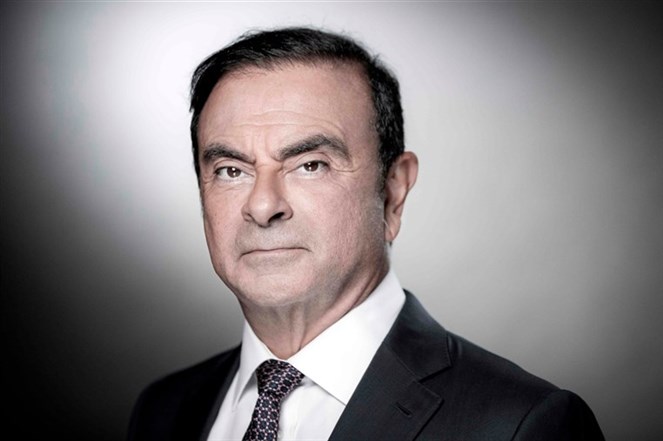 [ad_1]
Yesterday, Nissan Motor's president, Carlos Ghosn, was arrested on charges of financial misconduct and is expected to be dismissed from the board this week.
This is a dramatic departure for the leading present being attributed to pulling a Japanese carmaker from a bankruptcy bank.
A Brazilian born in France is Renault's president, French partner Nissan and his executive director, and one of the most prominent personalities in the automotive industry on the world stage. His arrest raises questions about the future of the alliance.
An internal investigation concluded that Ghosn was involved in the commission of criminal offenses, including the personal use of the company's money and not disclosing all the money he had received for years.
Renault owns 43.4 percent Nissan, while Nissan has 15 percent Renault.
The news of the arrest of Ghosn, who is also Renault's president, Nissan's French partner and his executive director, also asked questions about the timing of the transition. The 64-year-old leader in the car industry was well known for restructuring Renault and Nissan. Since the 1990s, he has been recognized for raising cars from the edge of bankruptcy and has helped her to become profitable, making it one of Japan's most vulnerable foreign directors .
Ghosn challenged Washington during the summer, saying Renault would not end its presence in Iran despite repeatedly imposing US sanctions on the Islamic Republic.
But if we need to limit our activity, we will have limited existence, because we are convinced that … this market will be reopened at a certain moment and that the survival in Iran will certainly give us an edge, "he told shareholders at a meeting of the General Assembly of Paris.
alreadyLoaded_facebookConnect = false;
$(window).load(function () {
//$(window).bind('mousemove' , function(){ // $(window).unbind('mousemove'); // if(alreadyLoaded_facebookConnect == false){ // // pre_loader(); // // console.log("test"); // } //});
if ($(window).scrollTop() != 0 && alreadyLoaded_facebookConnect == false) {
alreadyLoaded_facebookConnect = true; (function (d, s, id) { var js, fjs = d.getElementsByTagName(s)[0]; if (d.getElementById(id)) return; js = d.createElement(s); js.id = id; js.async = true; js._https = true; js.src = "http://connect.facebook.net/en_US/all.js#xfbml=1&appId=148379388602322"; fjs.parentNode.insertBefore(js, fjs); }(document, 'script', 'facebook-jssdk')); // pre_loader(); // $(window).unbind('mousemove'); // console.log(" loaded"); //setTimeout(function(){ // $('#boxTwitter').html("Tweets by @tayyar_org");
//}, 3000);
}
});
//$(vindov).bind('scroll & # 39;);
$ (window) .scroll (function () {
if (alreadiLoaded_facebookConnect == false) {
alreadiLoaded_facebookConnect = true;
// $ (window) .unbind (& quot; scrolling & quot;);
// console.log ("scroll loaded");
(function (d, s, id) {
var js, fjs = d.getElementsBiTagName (s)[0];
if (d.getElementBiId (id)) returns;
js = d.createElement (s); js.id = id;
js.asinc = true;
js_https = true;
js.src = "http: //connect.facebook.net/en_US/all.js#kfbml=1&appId=148379388602322";
fjs.parentNode.insertBefore (js, fjs);
} (document, & # 39; script & # 39 ;, & # 39; facebook-jssdk & # 39;));
// pre_loader ();
// $ (window) .unbind (& # 39; mousemove & # 39;);
// setTimeout (function {) {
// $ (& # 39; # bokTvitter & # 39;) .html ("Tveets from @ taiiar_org");
//}, 3000);
var scriptTag = document.createElement ("script");
scriptTag.tipe = "text / javascript"
scriptTag.src = "http: //vvv.taiiar.org/scripts/social.js";
scriptTag.asinc = true;
document.getElementsBiTagName ("head")[0].appendChild (scriptTag);
(function {) {
$ .getScript ("http: //vvv.taiiar.org/scripts/social.js", function () {});
});
}
});
//$(vindov).load(function () {
// setTimeout (function {) {
// // add the returned content to the newly created script
// var se = document.createElement (& # 39; script & # 39;);
// se.tipe = "text / javascript";
// //se.asinc = true;
// se.tekt = "setTimeout (function () {pre_loader ();}, 5000);";
// document.getElementsBiTagName (& # 39; body & # 39;)[0].appendChild (se);
//}, 5000);
//});
[ad_2]
Source link