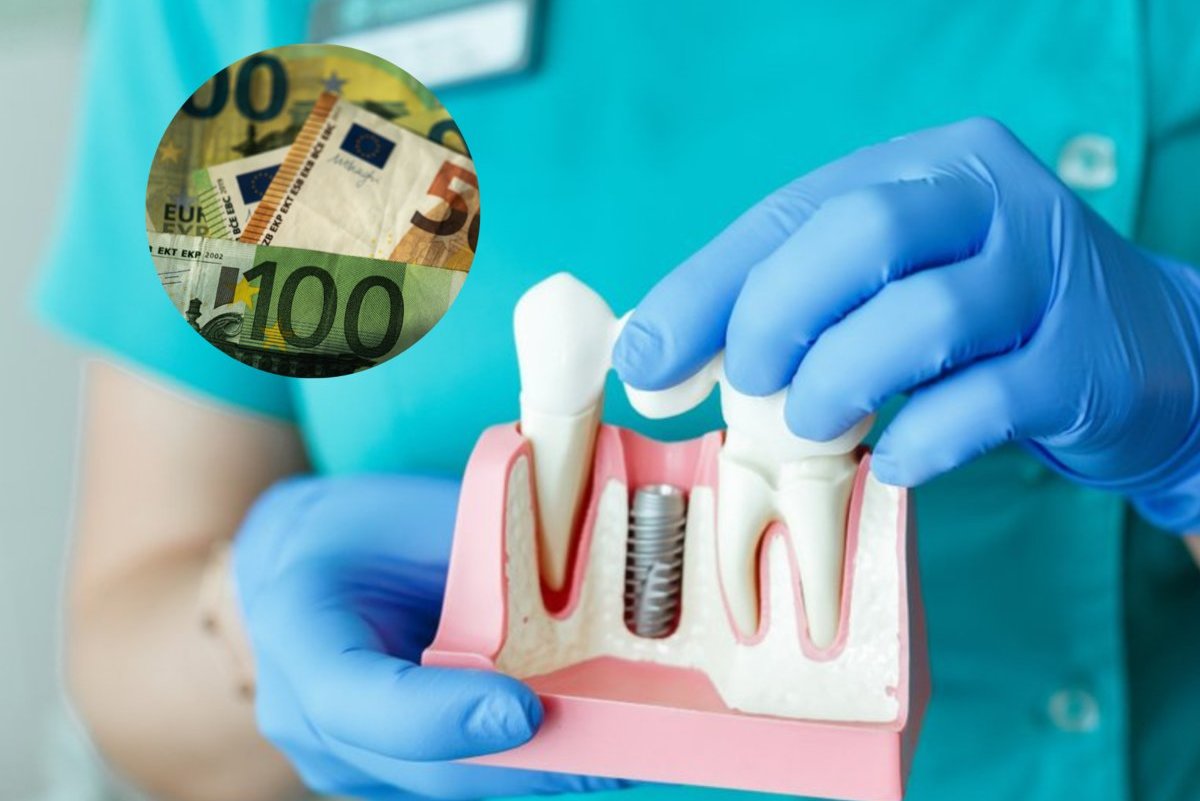 [ad_1]
Professor Gintaras Janužis, a member of the Council of the Chamber of Dentists, dentist and facial, oral and maxillofacial surgeon, states that having dental implants poses a greater risk to the patient, so preventive examinations are necessary. It can be compared to a technical inspection of a car, which is also done periodically and for a fee.
He realized that the money spent on dental implant placement is not the end
Tom, who placed a dental implant in a private dental clinic (editorial board last name – aut. Past), was surprised when he received a call from the clinic a few months after the implant.
"He said by phone that I should now visit the clinic regularly to apply the conditions of the guarantee. At first it will take me every few months, then every year I will have to check, do an x-ray, oral hygiene and everything else. important is that these procedures cost a lot, "Tom said.
Prior to the placement of the dental implant, according to the man, it was mentioned that the warranty is valid for 30 years: 25 years for the implant and 5 years for the works. However, immediately no one mentioned that you will have to visit the clinic regularly and pay the money for 5 more years.
He was only notified later by phone and on arrival at the first inspection gave a signature sheet to sign. The first visit after the implantation again cost more than 100 euros, without forgetting that the placement of the implant really cost a lot.
"Now we have to constantly check and pay the money again, otherwise the guarantees will not be valid. From what I've had to talk to other people who have dental implants, I've never had these things before," Tom noted.
Expert: Patients often misunderstand the guarantee
Professor G. Janužis, a member of the Board of the Chamber of Dentists, dentist and facial, oral and maxillofacial surgeon, explains on the news portal tv3.lt that the guarantee is often not fully understood in medicine, but if it is is to explain correctly to the patient is another matter.
According to him, patients usually hear only what they want to hear before the procedures, but it happens that doctors do not emphasize the most important things either, leaving everything as if it were "written in lower case".
"The implant guarantee is and must be provided. These warranties are usually provided by the manufacturer. The warranty is often felt: "lifetime warranty." This means that nothing can happen to the implant, but if it does occur, the manufacturer agrees to replace the implant with a new one. But a valid question arises: what about the wrong prosthesis that fits the attached implant? This area is often omitted from advertising because the manufacturer only reimburses the implant.
In the given situation, it can be understood that a five-year warranty is given for a prosthesis, which is a medical device and is manufactured individually for that patient. This is logical. However, an implant and prosthesis would only be suitable forever if they were placed "on the shelf." But they are in the mouth and are used constantly ", he underlines.
It must be understood by all that to maintain oral and dental health the preventive examinations that are paid if a private medical institution is chosen are necessary, the professor points out.
"Sometimes patients mistakenly imagine that after healing and dental prosthesis, they will last forever and the need to care for them becomes unnecessary. God has given us perfect teeth destined for life, but we usually lose them through negligence. And what do we expect from implants? If we pay money for them, it does not mean that they are eternal ", adds G. Janužis.
If, after implantation or prosthesis, patients do not visit prophylaxis specialists, if they do not take proper care of their oral health, the professor says there is no guarantee:
How should the payment have been introduced to the patient?
As mentioned above, Tomas de Vilnius states that payments for preventive inspections will have to be paid for another five years, he was not notified immediately, but some time after the procedure.
According to G. January, how to care for prostheses in the mouth, how to care for implants and prostheses, how often to perform preventive examinations and professional oral hygiene.
"I often explain to patients in a simple way: if I clean the house, it does not mean that they are clean and tidy forever, but that they must be taken more care, because if we do not do it, the treatment can only not n 'enough is enough, they may need to be repaired,' he said.
Lawyer Laura Augytė Kamarauskienė says that when buying any service, the conditions of the guarantee service must be indicated on the guarantee card, "and the term is only the conditions that must be met."
"It's about knowing if you knew the conditions under which the implant warranty was valid before you decided to place it in those conditions," he said.


[ad_2]
Source link