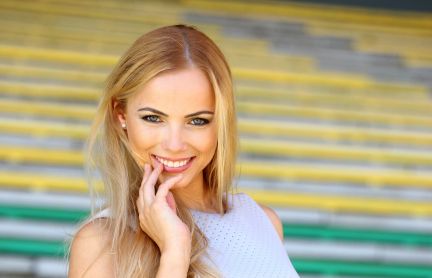 1 photo
Performer Goda Aliyeva is outraged because she faces a fine of 500 euros to participate in the awards. Police offer to pay half of that amount in good faith. Photo by Irmantas Sidarevičius.
The Kaunas County Chief Commissariat announced it after March 27th. Those responsible for the MAMA TV broadcast, which may have violated quarantine requirements, took place on March 29th. initiated 42 administrative proceedings against the organizers of this broadcast.
"So far, 42 administrative procedures for misdemeanors have been initiated against people who may not have met the requirements to wear masks and the planned distance in a broad sense (in various spaces), such as filming, if necessary, for up to 15 minutes. the mask cannot be worn and the prescribed distance cannot be observed).
Eight people who agreed that an administrative violation report with a fine payment order would be emailed to them, officials have already done. Individuals must pay half of the minimum fine of 250 euros within the established period.
Twelve other people were summoned to come to the police station to write a report on an administrative offense. Not all people cooperate with police officers, some ask to communicate through their administrators or lawyers, "Kaunas County police said in a statement.
A police report highlights that a large amount of information and data related to the shooting was collected this week. Officials analyzed both the live broadcast recordings that appeared in the public space and the videos recorded in various spaces of the "Žalgiris Arena" of video surveillance cameras. The goal was to assess who was doing what and when.
According to the police, the organizers of this broadcast / filming were asked for various documents, documentation related to the shooting and the people of the arena and their relationship with the broadcast. Organizers communicated and collaborated with police officers and provided the requested documents within a week. Officials began their analysis.
Goda Aliyeva, a member of the award-winning singer, a member of the group "69 in the sky", has already announced that he has received a fine. "People, and you get a fine for going to work? Strangely, I asked you to send me all the information that accuses me and what I committed a misdemeanor, but I received a fine immediately.
We're all fed up with quarantine, but it's time to get back to normal life! It's time to learn to live differently. Beware, try, but work and move freely! After all, many immunologists have confirmed that quarantine only works for the first few months. Other measures now need to be taken. Let people work and win! "The performer wrote on her social media account. Police have informed the woman that she faces a fine of 500 to 1,500 euros.
After police announced the "prizes" that should be given to the performers, the event organizers announced that they would not leave any attendees unattended. "To our knowledge, the material is currently being researched and is complemented by what could be useful for research, so we have no concrete conclusions about the shooting."
In addition, it turned out that this year the municipality of Kaunas provided solid support for the MAMA awards: 45 thousand. as a cultural event, not as a spectacle. In the event of outrage, Tomas Jarusevičius, the mayor's adviser, who commented on the situation, said that this support for these awards was intended to be a cultural project that would improve the image of Kaunas. And whether it's an event or a TV show doesn't matter in that situation.