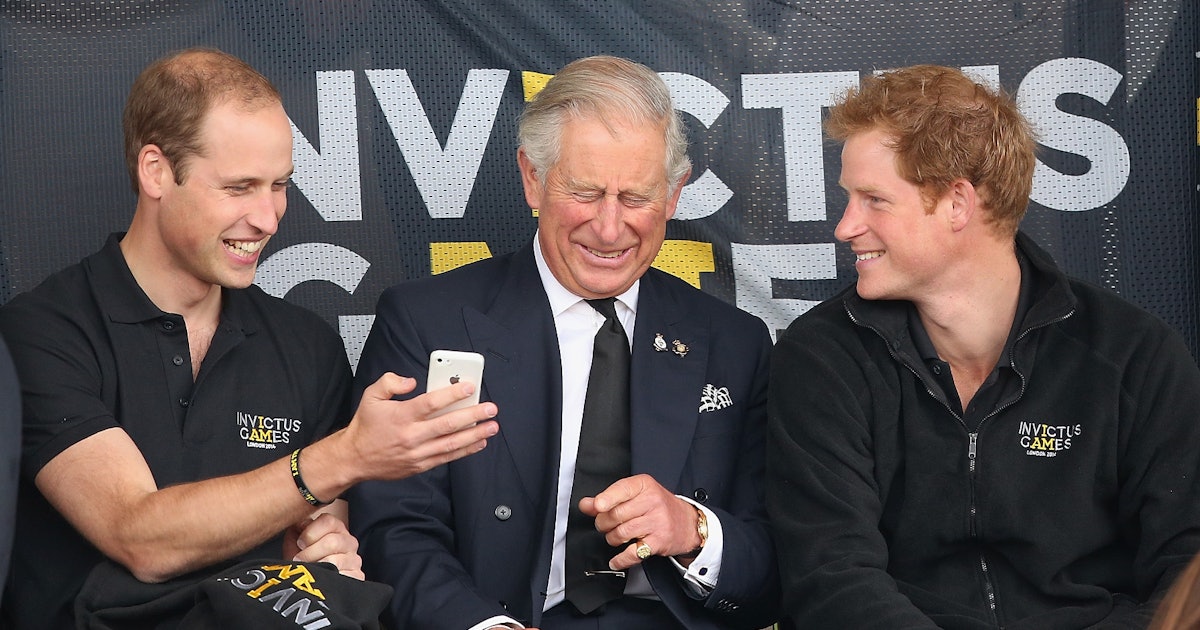 [ad_1]
Here's a piece of British royal family you may not know: The Prince of Wales is an incredible grandfather. Prince Villiam called Prince Charles a "brilliant" grandfather Prince, Son & Heir: Charles at 70, a new BBC One documentary film celebrating Charles's upcoming 70th birthday. As he reported Fun Tonight, Villiam and Prince Harry thought about how much their father obviously wanted to spend more time with his family.
William said his nearly 70-year-old father was so great with children that he wanted Charles to make more time for Prince George, Princess Charlotte and Prince Louis. And with Harry and Meghan Markle expecting their first child together next spring, Duke Saseks would not mind his father planning more family time.
William said in the documentary on Charles,
"I would like to have more time with the kids. Having more time with him at home will be wonderful, and he can play with the grandchildren, when he is there, he's great, but we need him as much as possible."
Camilla, the Duchess of Cornwall, also drew about her husband and his presence around children, including her five grandchildren,
"He reads Harry Potter and he can make all the different voices and I think kids really appreciate it. He will go down to his knees and arrest them for hours, you know, make funny sounds and laugh, and my grandchildren worship him, absolutely love him. "
Can you imagine Charles reading? Harry Potter a book series in different voices? Sounds like beautiful, stupid and funny, grandfather. It is no wonder that William wants his three children to get to know his grandfather better.
Harry also presented in the documentary how hard a Charles worker is, but wants his dad to take more time for himself and his family.
"He has to slow down," Harry said. "This is a man who ridiculously late at night tonight, and then goes to his desk at the end of that night and sleeps in his notes to the point where he will wake up with a piece of paper that gets stuck on his face."
Harry continues,
"The man never stops, and when we were kids there were bags and bags and bags for a job he had just sent to his office. We barely got to his desk to tell him good night."
In spite of the fact that Charles, apparently, worked continuously (yet, in the end, he was the successor to the British throne), there is no denying that he loves his grandchildren to a great extent. During November in Ghana, Charles said he wanted a better future for his grandchildren. According to The Telegraph, Charles attended a meeting on plastic pollution, where he said,
"I will soon have another grandchild, I suppose many of you may have grandchildren or will soon do it. It seems to me madness if we leave this polluted, damaged and ruined world for them." All the grandchildren deserve a better future. "
Also, in the BBC One documentary, Charles discovered that he planted trees for George after his first grandson was born in July 2013. While gesturing to the group of trees in his Scottish house Birkhall, Charles shared sweetly: "This is George's Tree. I'm old, everything I really want is planting trees. I hope George will be pretty fun because they grow up and grow. "
As William said, Charles really sounds like a "brilliant" grandfather who will, nevertheless, continue to influence the lives of his grandchildren.
[ad_2]
Source link