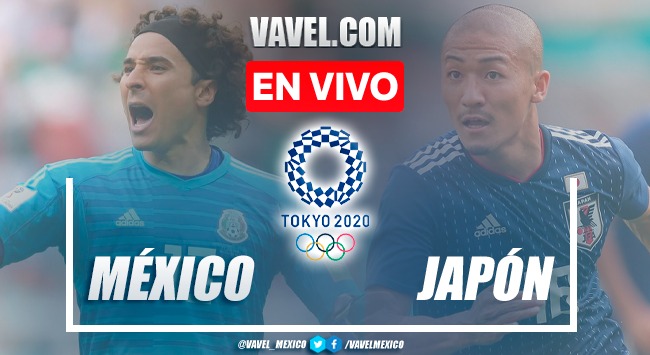 52 '
Lainez gets stuck in the Japanese area but fails to peep and sells the ball to the center attempt
50 '
Ochoa is left with Kubo's shot
47 '
Sakai and Tanaka are cautioned
45 '
Start the second half on the Saitama track
45 '+ 2'
End of the first part. Japan wins 2-0
45 '
Two minutes of compensation
41 '
Forced change for Mexico. Erick Aguirre is injured and is replaced by Vladimir Loroña
40
Half return from Córdoba. The Mexican team with more presence in the offensive
34
The Mexican team advances lines but does not connect in the last third of the track
28
Jorge Sánchez sees a yellow card. Two warnings for Mexico with the preventive card for Carlos Rodríguez
20 '
Kubo again creates danger and takes the shot that passes just deflected from the post
16 '
Half lap by Henry Martín that connects but without much force
11 '
Gol. Ritsu Doan scores the second for the Japanese on the penalty spot
10 '
César Montes commits a criminal offense
6 '
GOAL. Japan scores the first at the feet of Takefusa Kubo after winning the back of the Mexican defense
3
Corner kick for the team of Japan
1 '
In the second 19 Alexis Vega generates the first danger and gets a center that no one manages to finish
Initial whistle!
The actions start on the grass of Saitama, Japan
Everything is ready!
We will soon start the minute by minute of the match
The hymns are sung
Stay with us!
We are a few minutes from the initial syllable of this tight duel, be with Vavel not to miss any detail
XI Initial of Mexico
Guillermo Ochoa, César Montes, Jorge Sánchez, Johan Vásquez, Luis Romo, Erick Aguirre, Sebastià Córdova, Diego Lainez, Carlos Roríguez, Henry Martín and Alexis Vega
XI Initial of Japan
Kosei Tani, Hiroki Sakai, Maya Yoshida, Kou Itakura, Yuta Nakayama, Ao Tanaka, Wataru Endo, Ritsu dOAN, Takefusa Kubo, Yuki Soma, Dachi Hayashi
the data
In 2012, the Mexican National Team also faced Japan and thus advanced to the final of the competition. Defeating the Japanese 3-1 in London, when the Tri hung the gold medal
Historical statistics
The teams add two previous clashes, with a victory for each side, with an equal number of goals scored by each team on each side: 3.
The statements of Mexican strategist
"I am very grateful for this great opportunity to be the head of this team. We have to go step by step, we come with the intention of playing six games and we barely have the first one, which fills you with excitement for the rival. and a desire to keep moving forward, "' Jimmy 'Lozano mentioned in an interview.
History in feminine
Japan
The squad of the rising sun also adds a victory in this contest and although it was not for such a voluminous marker, we know that against Mexico will come out with the knife between the teeth to also aspire to the next round and assert their locality
Mexico: To tie the pass
The Olympic Tri would be very close to qualifying for the next stage in case of victory tonight, however, it has a difficult test ahead: the Japanese.
No takeoffs from here to follow Mexico vs Japan live
Where and how to watch Mexico vs Japan online and live
Player to follow from Japan
Player to follow Mexico
Saitama Stadium
Saitama Stadium 2002 (Japanese: 埼 玉 ス タ ジ ア ム 2002 Saitama Sutajiamu Ni-maru-maru-ni) is a football stadium located in Midori-ku, Saitama Prefecture, Japan. It is also known as Saitama Stadium or simply as Saisuta. The stadium was inaugurated in 2001 and has a capacity for 63 to 700 spectators. It is home to the Urawa Red Diamonds club of the J1 League.
Summoned by Japan
Osako Keisuke, Hiroki Sakai, Yuta Nakayama, Kou Itakura, Maya Yoshida, Wataru Endo, Takefusa Kubo, Koji Miyoshi, Daizen Maeda, Ritsu Doan, Kaoru Mituma, Kosei Tani, Reo Hatate, Takehiro Tomiyasu, Daiki Hashioka, Yuki Seda , Daichi Hayashi, Koki Machida, Ayumu Seko, Zion Suzuki
Convened by Mexico
Luis Malagón, Jorge Sánchez, César Montes, Jesús Angulo, Johan Vasquez, Vladimir Lorona, Luis Romo, Carlos Rodríguez, Henry Martin, Diego Lainez, Alexis Vega, Adrian Mora, Guillermo Ochoa, Erick Aguirre, Uriel Antuña, Joaquin Esquivel, Sebastià Cordova , Eduardo Aguirre, Ricardo Angulo, Fernando Beltrán, Roberto Alvarado, Sebasián Jurat
Japan
Although a thrashing of the host was expected in the debut, the score was much more discreet. The Japanese beat the African team by a narrow margin
group A
Mexico shares Group A with host, Japan; France and South Africa
True to his style
Great Tricolor debut
Good morning Vavel readers!
Source link