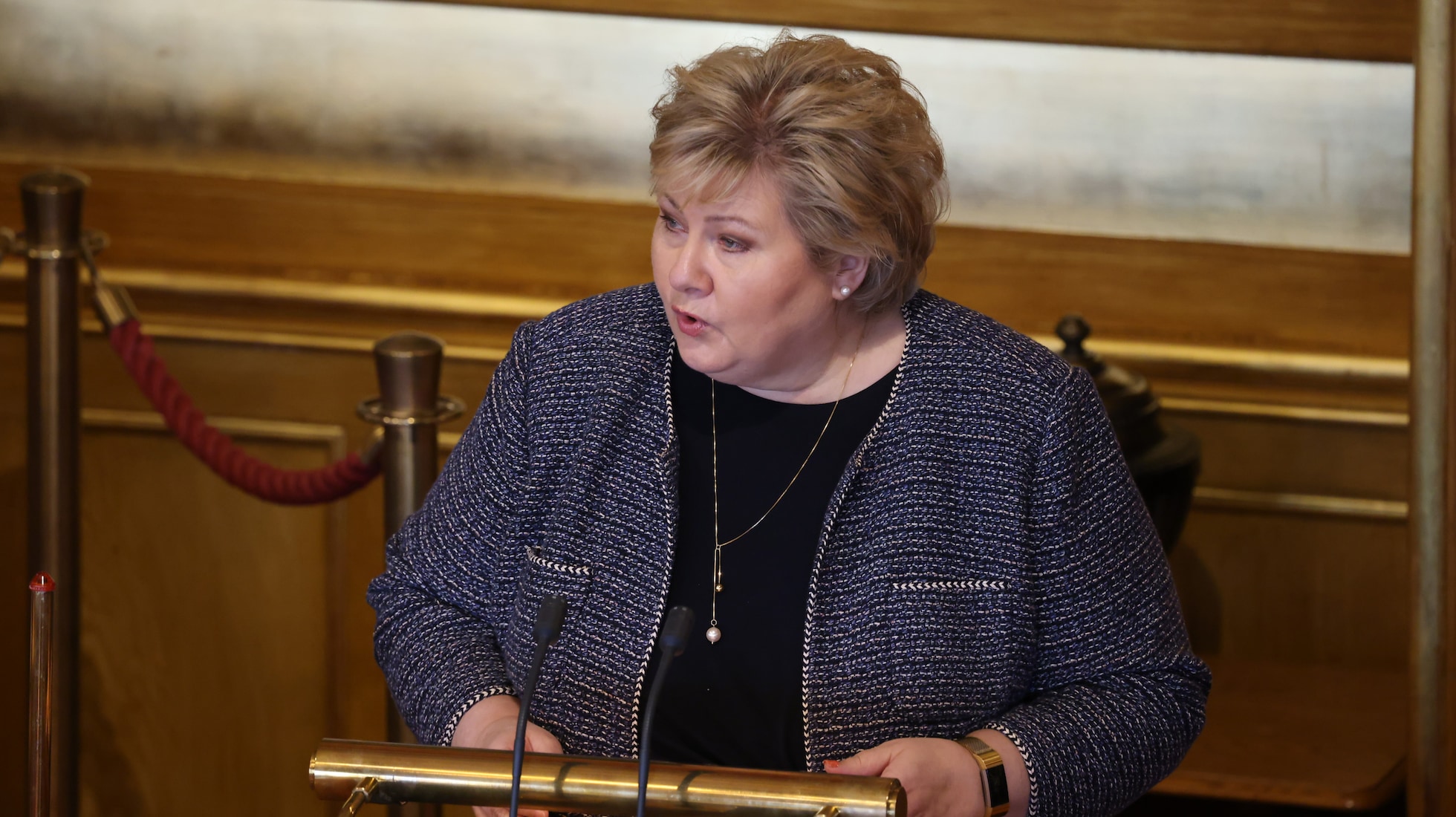 PARLIAMENT (VG) On Wednesday, Erna Solberg presented her plan for the reopening of Norway in Storting.
The prime minister says the plan consists of four steps.
When they open a step, they will wait at least three weeks before moving on to the next step.
– Also when we open society again, we will prioritize children and young people first, then the consideration of jobs and businesses, she says.
– We assume that the situation of the infection will be reduced during the summer season of this year as last year, but the situation is uncertain, especially with regard to the new variants of more infectious viruses.
According to Solberg, the situation will be assessed continuously from three control points:
1. Situation of infection and disease burden
2. Capacity in the health service
3. Vaccination.
According to FHI, it will be difficult to start the first stage of reopening before the last half of May, given the current development of the epidemic and the vaccination program.
In a more sober scenario, relief could begin in July, while in the worst case, reopening will be difficult in 2021.
Solberg also took care to set the steps for the date and said the data was more important than the dates. But he noted that step two could start with luck in late May:
– As you can see now, with the current evolution of the epidemic and the pace of vaccination, it will not be possible to start the second phase of the reopening plan in the second half of May at the earliest, says Solberg.
At the subsequent press conference, the Prime Minister clarified that they are talking about the same step. FHI operates with three steps in its report, and after that Norway hardened even further. Thus, step 1 was added to the government plan as a preparatory step.
also reads
This means the student reopening plan
So will the steps
The first step in the reopening plan is a preparatory step. It will then return to the level of measures we had before March 25, when new national measures were introduced to deal with the rise in infection in the weeks leading up to Easter.
Up to 5 people in private homes

Pouring up to kl. 22, with requirements for food service

Events can be held that bring together only people from one municipality

The distance recommendation is changed again to 1 meter

Up to 100 people at indoor events, such as cultural and sporting events, conferences and worship services, where everyone sits in fixed and designated places

Up to 200 people at outdoor events, but 200 people for three cohorts if the audience sits in fixed assigned seats
also reads
Trips abroad fell on Easter: – That was what we expected
Step 2
In the second step, the government will prioritize aid for children, youth and students. But there will also be relief for the wider sections of the population.
It opens to increase physical education in universities, colleges and vocational colleges

For visits to private homes, we carefully open from 5 to 10 people, because we know that much of the spread of the infection has just taken place in these contexts.

For private events in rental premises, up to 20 people will be open

The pouring time is extended to kl. 24.00 and the food service requirement is removed

Events can be held with up to 200 people indoors, where everyone sits in fixed, designated places

Children and young people will be able to participate in events and training organized within the municipality. Inside there will be a limit of 100

For adults in grassroots sports, it is gradually opening up to workouts organized both outdoors and indoors, in groups of up to 20 people. In mid-April, health authorities will propose a model to reopen grassroots sport

Domestic trips can be completed

Tips for avoiding trips abroad are maintained, unless the trip is strictly necessary. There will still be strict quarantine and testing requirements for those entering the country

There will be facilities for family visits from abroad, both from the EEA area and from third countries. Among other things, we will consider opening the entrance for friends and grandparents

There will also be relief for priority groups with business trips from abroad
Step 3
Here, it will be possible to open up to relief in both private and public spaces, among other things, allowing more people to gather.
It is possible to have 20 people at home. 50 people should be able to gather at private events in rented premises

For public events, separate assessments will be made related to the possible use of rapid tests and a crown certificate.

There will be normal discharge times, but there will still be registration requirements and a good distance between guests.

We still want as many people as possible to work in home offices

In adult grassroots sports, it will be considered that it will gradually open up to series games and other competitions.

Children and young people will be able to participate in events and training organized through municipal boundaries

Now the best athletes can practice an almost normal sports activity

We will also open more trips abroad, but with continued quarantine and testing requirements. However, these requirements may change as of today

We will also consider how crown certificates can be used to travel abroad

It will also open for more normal labor immigration
Step 4
Here, it may be almost as normal, but there will still be requirements for remote infection control measures that you are at home when you are sick or in quarantine and may still need some home office use.
There will still be number restrictions related to major public events and grassroots sports and leisure activities, but this must be taken into account on an ongoing basis.
Entry restrictions may still be relevant, especially for third-country travelers. It should also be noted that there may be quarantine requirements and testing for travelers from certain areas. The rules that apply to entry must also be followed on an ongoing basis.
The content of the steps may change, among other things, depending on new knowledge about how the infection occurs and the experiences gained through reopening. It may also be necessary to proceed more gradually. The plan will materialize each time we approach reopening.
also reads
Slowly, it will reopen the country
Digital crown pass
According to Solberg, the government is also investigating whether a simplified version of a nationwide crown certificate can be used to be able to open more and more quickly, using digital documentation on the status of the test and the vaccine.
In early May, the government will provide more information on the framework for festivals, concerts and other events throughout the summer.
Unemployment is still clearly higher than before the pandemic.
– They are people who want to work and we need to work.
Many laid-off workers will likely be able to return to work quickly when the infection situation improves. On the other hand, people who have been completely absent from work for a long time may have challenges at work. Therefore, there is a risk that the pandemic could affect the labor market in the long term as well, says Solberg and promises a new wage support plan.
Source link