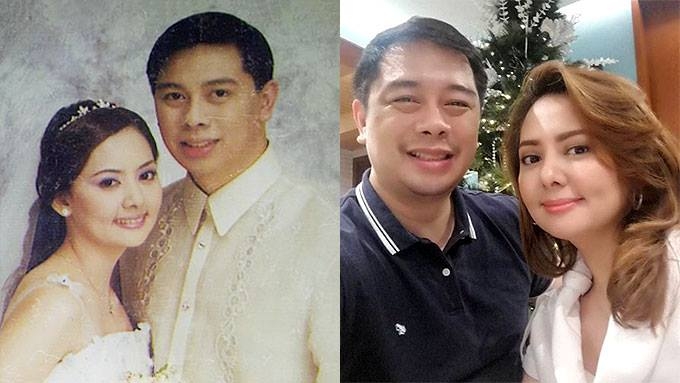 [ad_1]
Lindsay Custodio and husband Julius Caesar Plato II would celebrate their 18th anniversary of marriage in December this year.
But the untimely death of former Mayor Tanauan Citi early on November 19, suddenly left the former actress a widow at the age of 40.
PEP.ph (Philippine Portal for Entertainment) spoke about the love story of couples and how their relationship has remained strong over the years.
He was introduced to them by a joint friend in 1992, when Lindsay joined Ang TV, and started as a phone friends.
According to an article published by The Philippine Star in 2000, she prayed for a sign before their first meeting: if he wears a white shirt, he that.
Lindsay was initially disappointed that Julius appeared in a black suit.
Fortress: Rain fell that day.
When the other took off his jacket, his inner shirt was white.
It would take a year before Lindsay told Julie about this sign.
MEETING OF THE PRESIDENT
In Instagram post on December 14, 2014, Julius shared a photo of Lindsay (2nd on the left) and her colleague Ang TV (L-R) Sarji Ruiz, Erika Fife, Lailani Navarro, Jan Marini, Jane Zaleta, Lindsai, Rica Peralejo and Serena Dalrimple (second row).
Lindsay re-posted the photo and wrote: "Do you remember this? @ Sarjiruiz @ janmarini @ janezaletadimaunahan @ ricaperalejobonifacio @ budingding TV TV children in Tanauan Batangas ..
"Year 1993 recorded with my dear Father in the Act .. Former Mayor Cesar V. Platon .. He has gone for 13 years .. Julius and I were only 5 months married when he died .. RIP Dad .. They are always in our thoughts and prayers .. @ julius_platon @ grannisloves @ joicecamillep "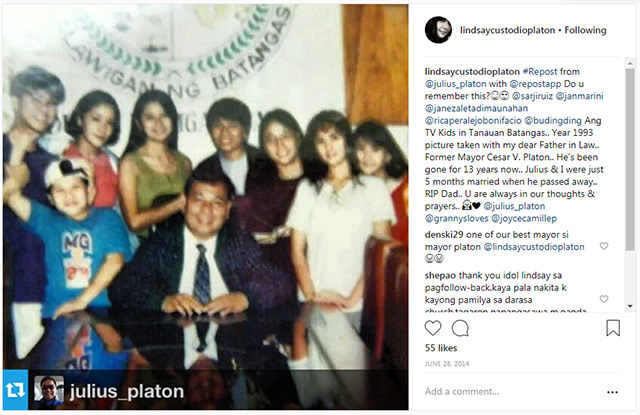 Quickly forward until May 3, 2000, Julius asked Lindsay to marry at his 25th birthday.
Then 22-year-old Lindsay was at the height of her career as a singer and lead lady when she decided to leave the stage and calm down with Julius.
In December 2000, the couple had two wedding ceremonies.
The first was a citizen's wedding, which on December 10, 2000 was served by mayor of the city of Tanuana Caesar Plato, Father Julius Caesar.
Here's how Lindsay celebrated last year, "Me and my love 17 years ago … I remember our December 10, 2000. – A civil wedding that served my thief in Tanauan Citi, Batangas … # love # forevermilove"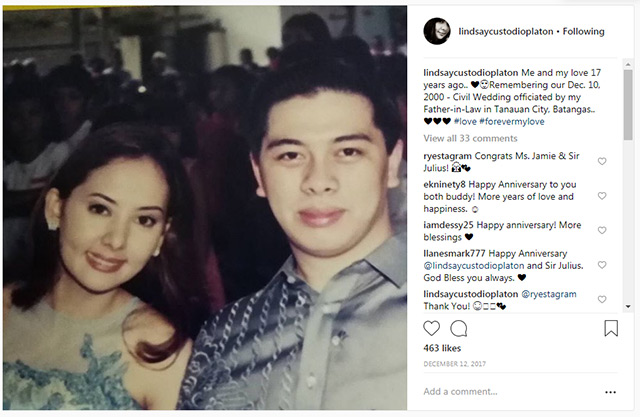 The Lindsay and Julius Church was held on December 19, 2000 at the San Sebastian Church in Manila.
The reception was held at the Manila Hotel.
Some of the sponsors were Vilma Galvante, Jose Mari Chan, the late German Moreno and the former representative of Manila 6th District Mark Jimenez.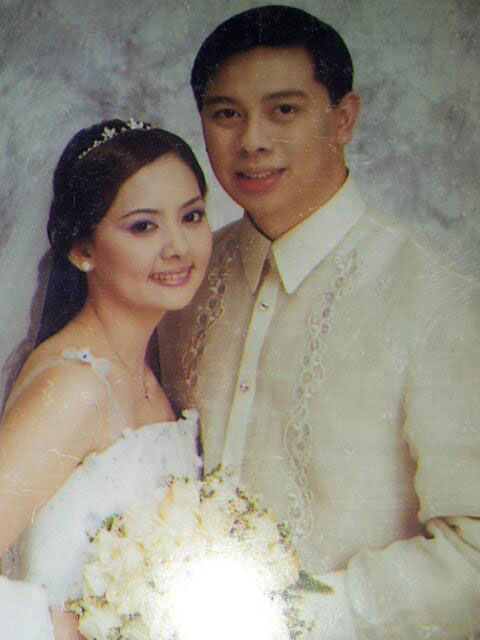 On September 19, 2001, she was born by Sean Cristopher.
On February 27, 2006, she greeted her daughter Charisse.
Julius followed his father's steps as a politician in Batangas, while Lindsay became a regular housewife.
READ AN INVESTIGATION of the life of Lindsay Custodio as Miss Julius Caesar Plato II
In 2012, Lindsay began to share the glimpses of her family life on social media.
A quick scroll on her food reveals that she and her husband are both parents …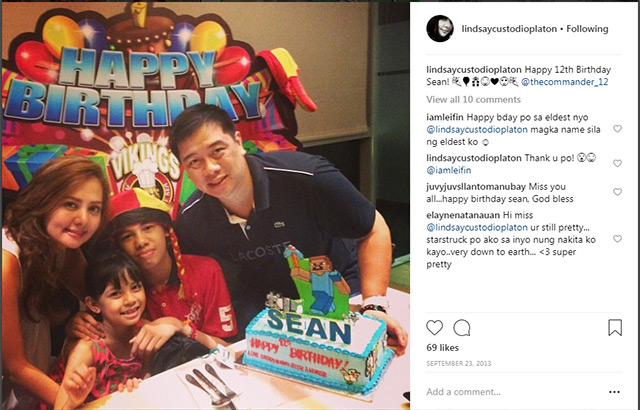 … and the constant date of the other.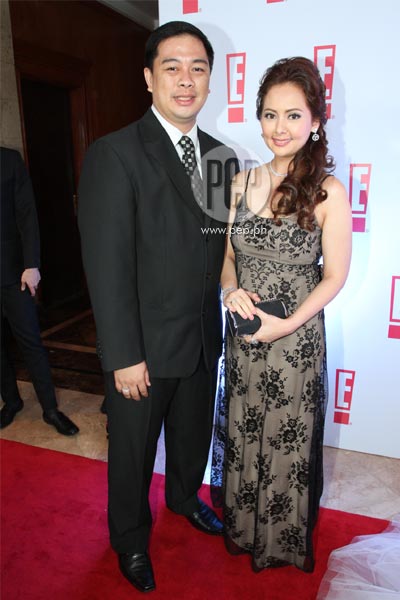 PEP.ph spotted a pair last November, on the 40th birthday of Joline Magdangal in Okada's Cove Manila.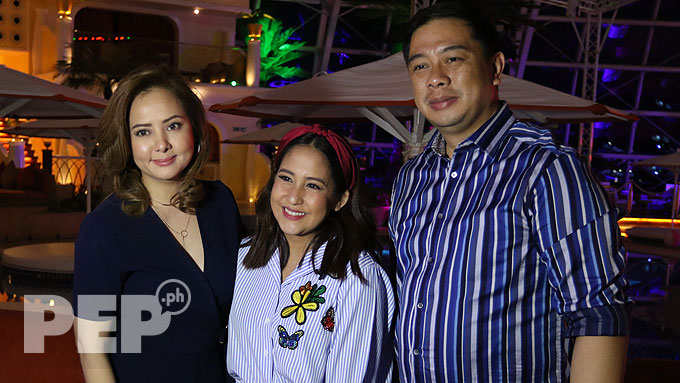 ---
The stories we follow
---
/*$(document).ready(function(){ if(getCookieISPR('ISPR_agreed') === true){ $(".ISPR-useragreement").hide(); } });*/
function statusChangeCallback(response) { console.log(response); // The response object is returned with a status field that lets the // app know the current login status of the person. // Full docs on the response object can be found in the documentation // for FB.getLoginStatus(). if (response.status === 'connected') { // Logged into your app and Facebook. fb_API(); } else if (response.status === 'not_authorized') { // The person is logged into Facebook, but not your app. setCookie("__pl", "", -1); setCookie("__cx_update_profile", "", -1); setCookie("__cx_1st_time", "", -1); setCookie("__eid", "", -1); } else { // The person is not logged into Facebook, so we're not sure if // they are logged into this app or not. setCookie("__pl", -1, -99999); setCookie("__cx_update_profile", -1, -99999); setCookie("__cx_1st_time", -1, -99999); setCookie("__eid", -1, -99999); } } function checkLoginState() { FB.getLoginStatus(function(response) { statusChangeCallback(response); }); }
function fb_API() {
FB.api('/me', { fields: "name, first_name, last_name, email, age_range, bio, birthday, picture, link, gender, locale, timezone, updated_time, verified" }, function(response) { if (getCookie("__pl") === "") { var udata = response; $.ajax({ "url": "https://www.pep.ph/services/prepare", "data": response, "dataType": "jsonp", contentType: "application/json", jsonpCallback: "jsonpCallback", beforeSubmit: function() { console.log("Sending..."); }, success: function(response, status) { if (status == "success" || status == 200) { var current = new Date().getFullYear(); var Birthyear = new Date(udata.birthday).getFullYear(); var age = current - Birthyear; var gaUserData = '{"userId": "'+udata.id+'","userProfilesmember-id": "'+udata.id+'","userProfilesgender": "'+udata.gender+'","userProfilesage": "'+age+'","userProfilesbyear": "'+Birthyear+'","site": "pep.ph","userFbProfile":"'+udata.link+'","userName":"'+udata.name+'","avatar":"'+udata.picture.data.url+'","fname":"'+udata.first_name+'"}';
setCookie("gaUserData", gaUserData, 1); setCookie("__pl", udata.name, 30); //setgaUserData(response); $('#fb-login-img').addClass("hidden"); $(".ISPR-useragreement").addClass('hidden'); $('.fb-login-title').addClass("hidden"); $('#fb-logged-in').removeClass("hidden"); $('#fb-logout').removeClass("hidden"); $("#fb-user-pp").attr("src", udata.picture.data.url); $(".fb-user-pp").attr("src", udata.picture.data.url); $(".fb-user-pp").removeClass("hidden"); $('#fb-welcome').text("Welcome, " + udata.name + "!"); console.log(response.message); document.location.reload(); } else if (response.status == "failed") { console.log(response.message); } } }); } else {
$('#fb-login-img').addClass("hidden"); $(".ISPR-useragreement").addClass('hidden'); $('.fb-login-title').addClass("hidden"); $('#fb-logged-in').removeClass("hidden"); $('#fb-logout').removeClass("hidden"); $("#fb-user-pp").attr("src", response.picture.data.url); $(".fb-user-pp").attr("src", response.picture.data.url); $(".fb-user-pp").removeClass("hidden"); $('#fb-welcome').text("Welcome, " + response.name + "!"); }
}); }
function getCookieISPR(cname) { var name = cname + "="; var decodedCookie = decodeURIComponent(document.cookie); var ca = decodedCookie.split(';'); for(var i = 0; i 0 || getCookieISPR('ISPR_agreed') === true){*/ FB.login(function(response) { /*if(getCookieISPR('ISPR_agreed') === null){ setCookie('ISPR_agreed',true,365 * 2); }*/ if (getCookie("__pl") == ""){ if (response.authResponse) { console.log('Welcome! Fetching your information.... '); access_token = response.authResponse.accessToken; //get access token user_id = response.authResponse.userID; //get FB UID
statusChangeCallback(response);
} else { //user hit cancel button console.log('User cancelled login or did not fully authorize.');
} } }, { // return_scopes: true, // auth_type: 'reauthenticate', // auth_nonce: '{random-nonce}', scope: 'email, public_profile, user_birthday' });
/*} else { alert('Please check the user agreement before logging in'); }*/ } function fb_logout(){ FB.logout(function(response) { setCookie("__pl", "", -1); setCookie("__cx_update_profile", "", -1); setCookie("__cx_1st_time", "", -1); setCookie("__eid", "", -1); setCookie("gaUserData", "", -1); $('#fb-logged-in').addClass("hidden"); $('#fb-logout').addClass("hidden"); $('#fb-login-img').removeClass("hidden"); $(".ISPR-useragreement").removeClass('hidden'); $('.fb-login-title').removeClass("hidden"); $(".fb-user-pp").addClass("hidden"); $(".fb-user-pp").attr("src", ""); console.log('User has been logged out.'); document.location.reload(); }); } function setCookie(cname, cvalue, exdays) { var d = new Date(); d.setTime(d.getTime() + (exdays*24*60*60*1000)); var expires = "expires="+d.toUTCString(); document.cookie = cname + "=" + cvalue + "; " + expires + "; path=/; domain=.pep.ph"; } function getCookie(cname) { var name = cname + "="; var ca = document.cookie.split(';'); for(var i=0; i [ad_2]
Source link