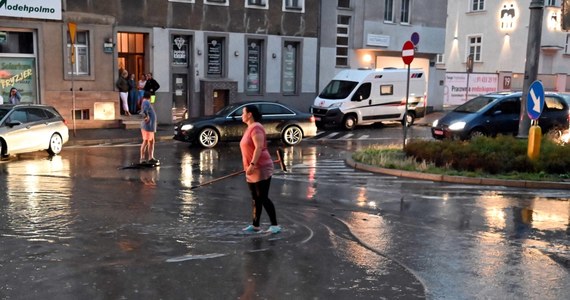 The Government Security Center issued an alert for the regions of southeastern Poland. Rain and rain are expected there. In turn, as reported by Małgorzata Tomczak of the Institute of Meteorology and Water Management, rain is expected across the country. At night, the temperature will drop to 12-17 degrees Celsius.
As reported by the synoptic, on Sunday a rainfall zone will enter Poland from the south and southwest. The heaviest rainfall is forecast in the south, center and east of the country.
The storms will occur mainly in the regions of Małopolska, Podkarpacie, Kielce and Lublin. They could be strong storms with violent phenomena, with intense rainfall of up to 40-50 mm and gusty winds of up to 100 km / h. They may appear somewhere swirls – Małgorzata Tomczuk pointed out.
Rainfall is possible across the country. In the afternoon it will be overcast in Warsaw, rain is also expected, but most likely there will be no storms. The weather in the west of the country will be calmer, without any violent phenomena. The temperature will range between 18-19 degrees Celsius in Lower Silesia and 30 degrees in Podkarpacie.
Sunday night through Monday, most rain and thunderstorms are expected in the northeast and east. In Podlasie, the amount of precipitation in some places can reach 50 mm. There may be showers all over Poland, but it is certainly less dangerous – Added the man of the time.
The temperature at night in Poland will drop to 12-17 degrees.
IMGW reported that third-degree storm warnings were issued for the entire Podkarpackie Voivodeship, eastern Małopolska (including Tarnowski and Nowosądecki poviats), much of the Lublin region, and the Świętokrzyskie Voivodeship.
Second-degree warnings were issued against heavy rains and storms for western Malopolska (including Krakow), the Silesian Voivodeship and northern Lublin and part of Mazovia (including Radom).
First-degree warnings were issued for the Opolskie Voivodeship, parts of the Łódzkie Voivodeship (including Piotrków Trybunalski) and the eastern part of Lower Silesia.
The Government Security Center sent alert for residents of southeastern Poland. These are the regions of the following voivodeships: Małopolskie, Śląskie, Świętokrzyskie, Podkarpacie, Lubelskie and parts of Mazowieckie. Storms, showers, strong winds and hail are expected on Sunday and at night.
Where do storms currently occur? This can be checked on the following radars.