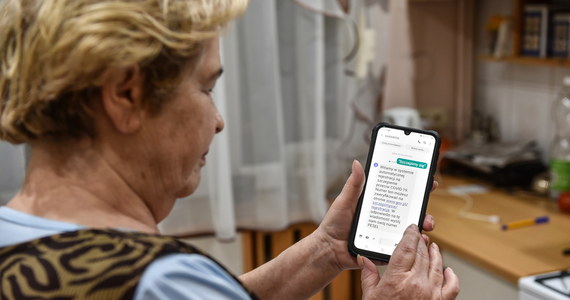 Vaccination against Covid-19 for people over 70 begins Monday. Those who have not registered must be patient. "We no longer have free terms," Michał Dworczyk admitted from the prime minister's office at a press conference.
All inoculation dates for the first quarter of 2021 have already been taken.
"We don't have free terms," the head of the prime minister's office, Michał Dworczyk, said openly. "We have more than 3 million deadlines taken: registered or vaccinated," he added. He assured her this is not due to system problems, but to the lack of vaccines.
The head of the prime minister's chancellery added this the volume of vaccine supplies does not definitely match Poland's demand.
He stressed that, according to the agreement negotiated by the European Commission with vaccine suppliers, our country is entitled to the number of doses that allow 3.1 million Poles to be vaccinated at the end of the first quarter.
This week, Poland will receive more than 300,000 vaccines, and two more than 300,000 deliveries are planned. As Dworczyk added, due to the problems of the manufacturer, the shortage of vaccines in Poland amounts to several hundred thousand pieces.
"And today we have already taken dates, registered or in the process of vaccination, for more than 3 million people"- He said, adding that it meant that" at the moment we do not have vaccines available, there are no more vacancies. "
Michał Dworczyk He appealed to seniors who still want to enroll in vaccines, to stay home on Monday and not go to the clinic.
"We call on the elderly, those who want to register, to report their willingness to get vaccinated by phone via SMS or via the Internet," he said.
He stressed that the 989 helpline was also in operation, to which all the elderly can call and, although there are no deadlines today to register at specific places for vaccination, callers can leave their Conctact information. "And as soon as the vaccines appear in Poland, they will receive feedback and be scheduled for a specific date"- Assured Dworczyk.
He added that the desire to be vaccinated can also be reported by sending a text message to 664 908 556 or by registering via gov.pl/szczepimysie.
"We guarantee that all seniors who will provide their data in this way as soon as vaccines appear in Poland and, consequently, new dates, will be called by employees of the hotline and will propose a specific vaccination date" – he said. Dworczyk.
Vaccinations in Poland began on December 27 last year. As of Sunday, January 24, 2021, 701,164 vaccines against Covid-19 had been administered.
Group 0 vaccines are currently underway, i.e. medical staff.
Covid-19 vaccination for the elderly begins Monday.
Registration for vaccination for people aged 70 and over began on Friday, an elderly person over 80 has signed up for a week.
In addition, as of January 15, a vaccination application form was launched for all people over the age of 18.
Poland is implementing the National Covid-19 Vaccination Program within the framework of the European Union. On behalf of the Member States, the European Commission buys vaccines from pharmaceutical companies, distributing them among the Member States in proportion to their population.
In mid-January, the American concern Pfizer announced a temporary reduction in the supply of the vaccine to the Biontech / Pfizer consortium, as a result of the need to adapt the technological lines to the increase in the production of the preparation. Production capacity in Europe is expected to increase significantly in the second quarter.