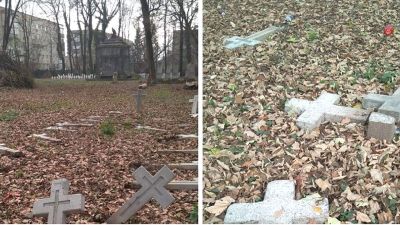 [ad_1]
Unknown perpetrators destroyed the crosses at the cemetery in Kolomiya in western Ukraine, where Polish prisoners of war from the Polish-Ukrainian war were buried in 1918, said Stanisławi Kołusenko, president of the Polish Culture Association Pokucie.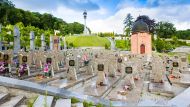 The Lviv Regional Council calls for the removal of lions from the Eaglets cemetery
The Lviv District Council requested the removal of the statue of lions from the Lviv Eaglets cemetery, which it recognized as "the symbol of Polish occupation of Lviv". Statement on …
see more
– On October 27, at the cemetery, there were 200 new crosses, which were also dedicated. On the night of Sunday to Monday, 95 of them were destroyed: someone deceived them and fired them. We were informing the police and the Security Service of Ukraine, "she said in a telephone interview.
Police in the Ivano-Frankivsk region, where Kolomiya is located, have informed that they are investigating this case, but the guilt of the attack on the cemetery has not yet been established. President Kołusenko said that municipal authorities have already restored some of the crosses and cleaned the area.
The destroyed part of the cemetery was rebuilt in connection with the 100th anniversary of the independence of Poland. Polish prisoners of the Polish-Ukrainian war were there and the Poles were interned in a camp in Kosach, in the suburbs of Kolomiya, and died in 1918-19.
The camp was created by the authorities of the Western Ukrainian People's Republic. About three thousand people were held. Polish independence and social activists. About a thousand of them died of illness, cold and hunger. The camp existed until May 1919, when the Poles took power in Kolomija.
Make a desire for Poland!
We invite you to give birthday wishes for a re-born Poland, which ends on November 11 for 100 years. We are happy to announce the most interesting of them. The form of sent sentences is arbitrary – video, photography, and finally written, honest.
Let's run once in 100 years of politics and disputes. We are waiting for your wishes for Poland!
Mail: [email protected] SMS / MMS: 601 600 100
source:

cash register
[ad_2]
Source link