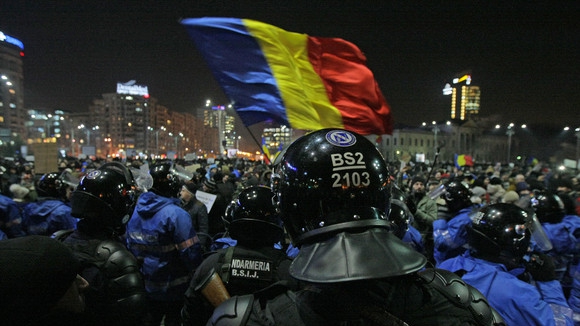 [ad_1]
Serious sentences for extremists who were involved in violent actions against the police in protest on February 1, 2017 – when hundreds of thousands of citizens of Bucharest showed themselves against the proclamation of the GEO 13. The biggest punishment: four and a half years in prison!
Ultras who fought against violence against the police in protest on February 1, 2017 – when hundreds of thousands of Bucharest citizens were declared to be declared EGO 13 – were fined or imprisoned for up to four and a half years, according to the decision of the first instance, Mediafak reports.
The decision in the file 19951/299/2017 on the issue of harassment is not valid and the Bucharest Court can appeal to it.
Several people received sentences ranging from six months to two years in prison due to ultra-violent crimes, disturbances of peace and public order. For those convicted of suspended sentences, the first-instance court banned them as a complementary punishment for civil rights to elect or to be elected. From the individual case, the court also imposed certain prohibitions, such as: "the right to seize a position involving the exercise of state power, the right to possess, to wear and use any category of weapon, the right to be in public, political, social, cultural or sports gatherings of any size, organized or spontaneous protest action, other than those required for academic or professional activities. "
The most severe punishment in this case is four and a half years of imprisonment with execution.
On the evening of February 1, 2017, thousands of citizens of Bucharest came to protest in the square of Victoria, after the then Justice Minister Florin Iordache announced the entry into force of the EGO 13 with the aim of amending the Law on Judiciary, including the redefinition of abuse of power.
"On the night of 01/02/22/2017, while in the area of ​​the Victory Square, in the context of peaceful demonstrations in that area, which involved about 100,000 people, the defendants were violently manifested, throwing with various brilliant objects (bottles, pieces ice, containers) in exercising their duty to secure order during protests, causing them physical suffering, "the prosecution notes.
Prosecutors of the District District District 1 announced on February 6, 2017 that they had been prosecuted for the rage, the use of dangerous items and public order disorders to eight people who published their names, four of which were detained and four in court.
[ad_2]
Source link