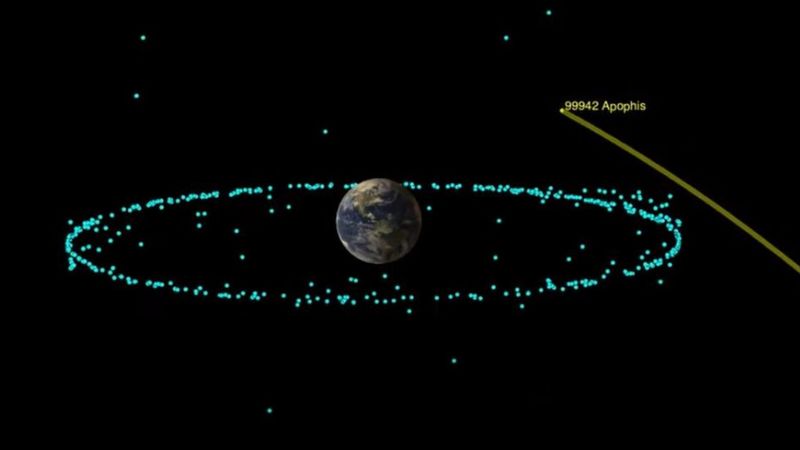 Our readers are Instagram users
You can now follow the latest news for free through our Instagram account
Click here to subscribe

Residents on planet Earth can breathe a sigh of relief now after the US space agency (NASA) confirmed that we will live safely without the threat of the asteroid Apophis, which has moved away from Earth and cannot collide with it. for at least 100 years.
Since the discovery of the asteroid Apophis in 2004, NASA has considered it one of the most dangerous asteroids for the future of Earth and the life it lives on.
There was an expectation of close proximity between the asteroid path and Earth in the future in 2029 and 2036, but now the situation has changed and these possibilities have been ruled out and only a slight threat is expected for the Earth in 2068.
NASA's latest decision is based on a new analysis of the asteroid's trajectory.
"The expected impact in 2068 is no longer likely and our calculations show no dangerous impact on Earth that could be exposed for at least the next 100 years," said David Varnoquia, a scientist who studies objects close to Earth in the Earth. NASA said in a statement Friday.
The asteroid Apophis was named after the ancient Egyptian god of chaos and darkness, and its length is estimated at 340 meters, that is, the length of three football fields.
The asteroid recently flew from Earth on March 5, passing 17 million kilometers from Earth.
Astronomers were able to use radar observations to improve their estimates at the expense of the asteroid's orbit around the sun, which allowed them to rule out any risk of collision in 2068 and much later.
A new asteroid passes near Earth
"When I started working on asteroids after I finished college, Apophis was the main direction of dangerous asteroids," David Varnoquia said. "There is a sense of complacency to remove her from the list of possible dangers on the ground."
He said NASA "looks forward to the science we could reveal during its approach to Earth in 2029."
A close-up is rare
The next extreme approach to Earth created by Varnoquia will take place on April 13, 2029. At this time, the asteroid is expected to pass 32,000 km from the Earth's surface.
This distance is about one-tenth the distance between the Earth and the Moon.
During this close proximity in 2029, Apophis will be visible to observers in the Eastern Hemisphere, which includes Asia, Africa, and parts of Europe.
No telescopes or binoculars will be needed, unlike last March's approach that NASA observed with binoculars.
Even on this occasion, according to the agency, the asteroid's radar images had "remarkable accuracy compared to the enormous distance."
"If we had binoculars with the power of this radar, we could sit in Los Angeles and read a dinner menu written in a New York City restaurant," said Marina Brozovic, a NASA scientist.
Three asteroids potentially threaten Earth
NASA is tracking asteroids that could one day threaten and approach Earth dangerously, classifying them as potentially dangerous asteroids (PHAs).
They all have code names taken from the names of the robots that appeared in the Star Wars franchise. The three asteroids are:
1950- DA
The asteroid 1950 DA was discovered on February 23, 1950, before it completely disappeared from view.
Half a century later it was rediscovered, which allowed scientists to make new calculations about the asteroid, which is 1.3 km long.
A possible approach to the ground was determined on March 16, 2880.
But the odds of direct success are long. NASA said there is a 0.012% chance of a collision with Earth.
2010 – RF12
The 2010-RF12 asteroid tops NASA's list of asteroids that can collide with Earth.
There is a 4.7% chance that a 7-meter-diameter asteroid will collide.
NASA expects the first potential impact to occur on September 5, 2095.
It sounds more terrifying than it is, but scientists say the asteroid is relatively small, so it will not pose a major threat to Earth.
2012 – HG2
NASA expects the first collision of this asteroid with Earth to occur on February 12, 2052.
The asteroid HG2, about 14 meters in diameter, has the highest potential impact rate on Earth on NASA's watch list.
But this asteroid is also relatively small, so it is likely to burn in the Earth's atmosphere.