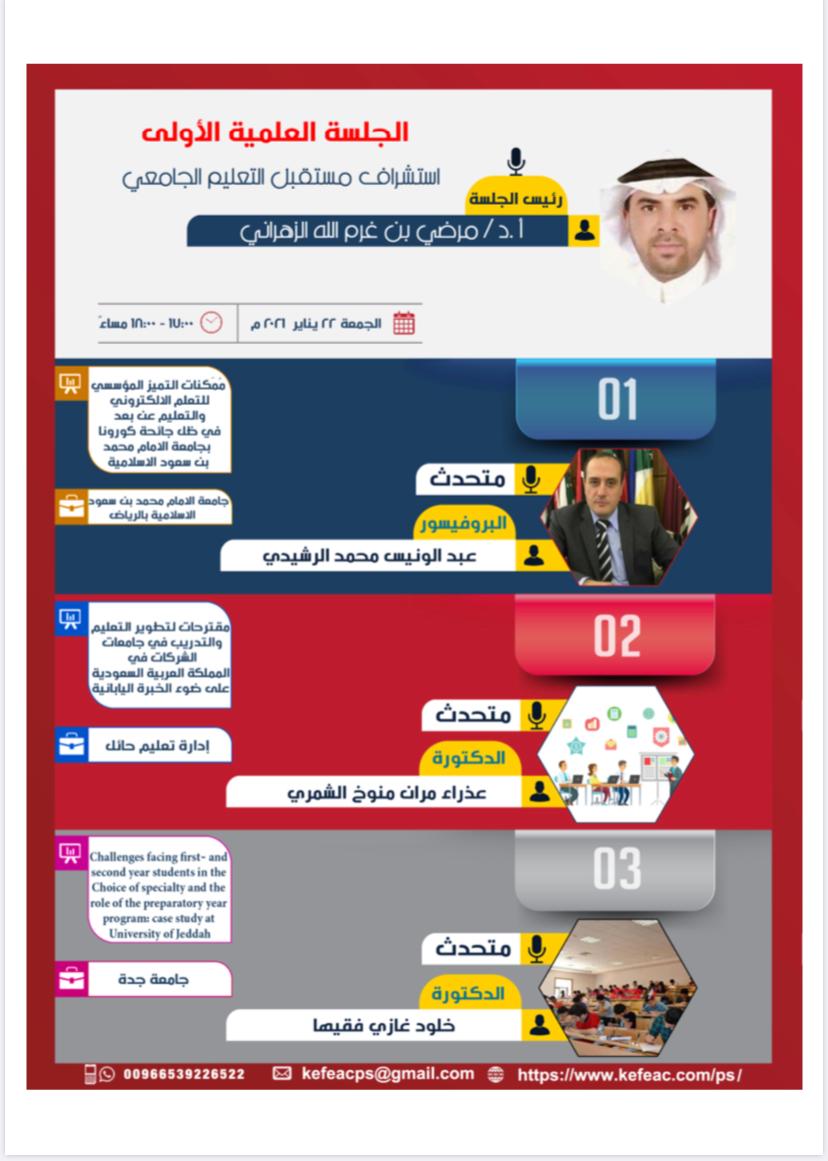 On Friday afternoon, the activities of the Virtual International Conference for Learning in the Arab World, which lasts five consecutive days in the evening, were launched through the Zoom Program, in which there is a lot of research, studies and scientific posters related to education and learning. process that is managed and organized through the enrichment of knowledge for conferences and research is presented under the umbrella of the General Organization of Exhibitions and Conferences and aims to highlight modern scientific efforts and research results and studies in the field of education and contribute to increasing the quality of educational research, keeping up with the requirements of the time and benefiting from international experiences and expertise, as well as encouraging research scientific and discuss educational and learning problems and issues in a scientific way to identify and address defects.
The president of the conference, Dr. Abdul Rahman bin Muhammad Al-Zahrani, explained that the conference is international and includes more than 16 educational, educational and technical axes, and many Arab nationalities from Egypt, Jordan, the state of Kuwait , the United States Participating in the United Arab Emirates and the Sultanate of Oman, which includes thirteen scientific sessions, as well as four training workshops given by a constellation of distinguished academics and educators specializing in educational sciences.
Two sessions have begun today, in which Professor Abdelwais Mohamed spoke in the first session about the possibilities of institutional excellence for e-learning in the light of the Crown pandemic.
While Dr. Atharah Marran spoke about proposals to develop education and training at the Kingdom Corporate University in the light of the Japanese experience, Dr. Kholoud Ghazi spoke about the Challcnees facing the first program, while the session was moderated by Dr. Mardi Al Zahrani
In the second scientific session, Dr. Majid Al-Otaibi and Abdullah Al-Odayani spoke about teachers' attitudes towards professional growth and Nisreen Ali spoke about the impact of e-learning on the development of trends towards use of technical programs among high school teachers.
While Dr. Hussam El-Din and Ahmed Al-Marzouki spoke about professional development teams to support professional development programs for school-focused teachers, the moderation of the session was Dr. Aisha Al-Omari.
Source link