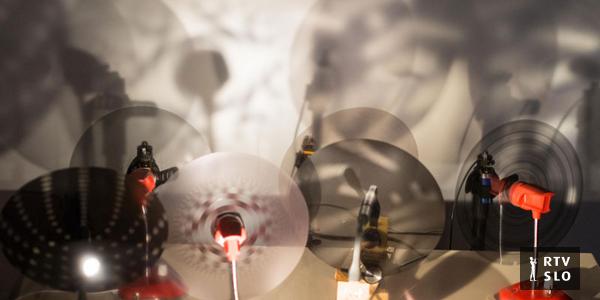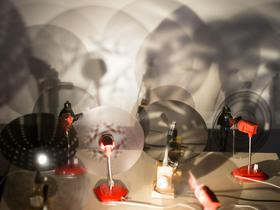 On Friday, Kiblik will present Klaus Philip with the look of Sonic Luz. "By moving bulbs, sound discs and light sensors on the table or changing discs, we can quickly and intuitively manipulate sound compositions. The device does not have an internal component that can be hidden, it all happens to visitors who are thus witnessing a performative aspect of exceptional beauty," they wrote in announcement of the event. Photo: Kibla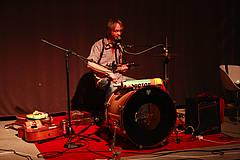 Also on Friday will be Andrej Fon – Olfamoz, who is "the current or former member of the ensemble, such as Karst soloists, Samo Gromofon, Barka Tone and White Seals, The Guardians and the Horde of the Grands." Photo: Kibla
In Maribor from November 14 to 17
November 14, 2018 at 17:17
Maribor – MMC RTV SLO
Sound performance Paradisco Petra Kapš alias OR poiesis and project Memory Match Sound Researcher Boštjana Perovka Trees opens an international festival Kiblik, dedicated to intermedia art.
Kiblik Festival was founded in 2002 by Kibla Cultural-Educational Society as open-source information technology. In the past period it has usually been associated with the International Computer Art Festival (MFRU), which was held this year already in October.
In addition to the artistic, there is also an educational set
This year, Kiblik brings again workshops, lectures and artistic performances in Maribor. The event was divided into an artistic and educational gathering, which, among other things, was prepared because "the orientation of the formal education system is still too one-way, interdisciplinary, which remains closed in the narrow domain of its own scientific knowledge, which increasingly melts paraffin wings in the global age".
Thus, they want to involve young people from elementary and secondary schools in students in the education sector. This year, for example, they prepared a chain experiment Lego Mindstorms under mentorship Саша Марковича and pirated radio workshops, whose mentor is Simon Macuh.
On the second day of the festival, they will be presented as part of the artwork Stop Spegel in Marko Batista. The first will be performed by sounds of vibrations of Slovenian forests, while others will be performed by intermedia audio-visual interventions Network lock.
Optosonic synthesizers and poly-instrumentalists
Friday will be the last day for the artistic gathering, and will bring performance with optosonic synthesizer technology Sonic Luz, to be carried out by an Austrian Klaus Filip. Also on Friday will be a domestic multi-instrumentalist or already a poly-instrumentalist Andrej Fon, known as Olfamoz.
The correct program 17. Kiblik can be viewed here.
In the educational structure, which lasts until Saturday, among other things, will be an artist Jože Slaček presented his latest project DNA of art and immortality, which is present at the international interdisciplinary exhibition since the beginning of October Personally on the portal Kibla. After this presentation, the lecture will be followed Heterotrophy – What is personal than being with someone? To eat it!on which it will be Tomaž Grušovnik lectured on the subject of dietary existentialism.
17. Kiblik concludes on Saturday when she will be mentors Franz Vrbančič there was also a workshop on multimedia, program and light effects.
P. G.
Report a bug
Source link