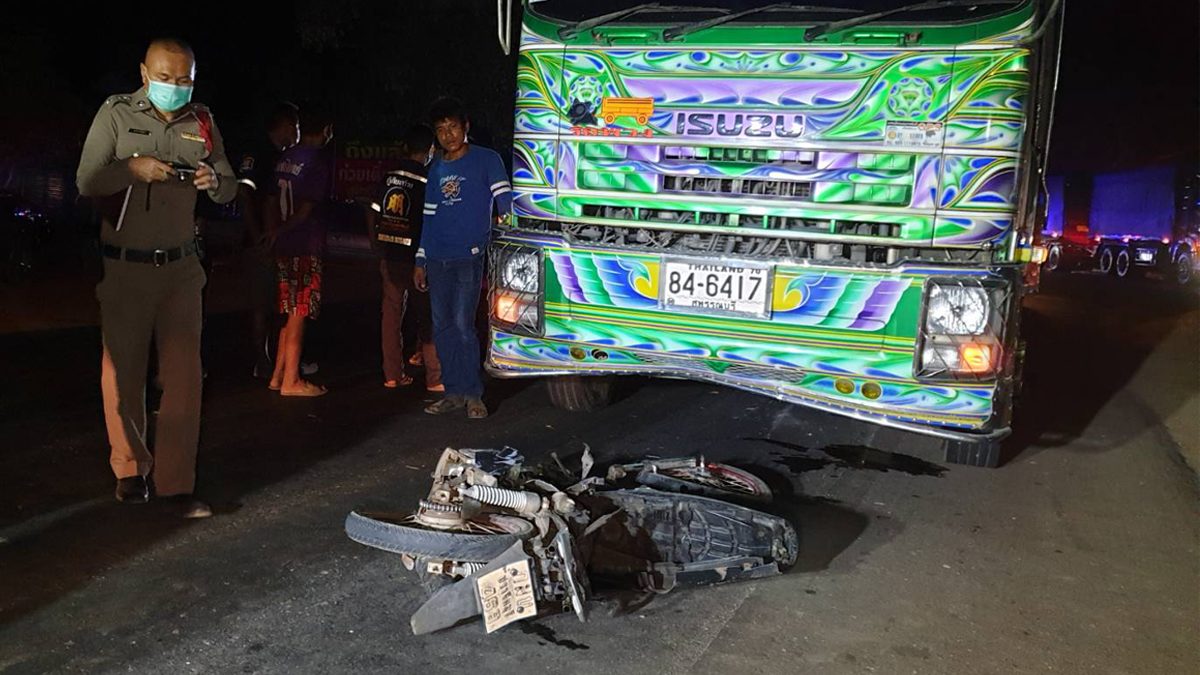 Young polio Ride a motorcycle to send him to work at night shift. He was hit by a van, the car fell on the legs of the 18 wheels, 2 cars drove after stepping on several times, breaking his body Nong jumped in time
On January 25, Lieutenant Colonel of Police Mongkol Ralinta, Deputy Inspector of Duty (Investigation), Muang Prachinburi Police Station He was notified of a traffic accident in front of the Alpine Ban Noen hat, Moo 13, Dong Khilek District, Mueang Prachinburi District Therefore prepared forensic medicine Chao Phraya Hospital Abhaibhubejhrud to examine
The scene of the accident was the descent of the hill, with two narrow lanes of traffic and quite dark. In the middle of the road was a 33-year-old Nontakon Hongthong lying dead, a car trampled him and he collapsed.
About 50 meters away, an 18-wheel trailer loaded with more than 50 tons of cassava, 2 cars parked by 35-year-old Anutin Rattanapibul, the driver inspected under the bottom of the trailer found a dead motorcycle registered at Km 468, Prachinburi. Trapped
According to the investigation, Miss Sirithon Chanudom, 20, a cousin of the deceased, said that before the incident, Mr Nonthakorn had gone on a motorbike to send him on a night shift. Arriving at the scene of the accident There was an unidentified bronze van, registered with company register 4258 (category of unknown province), he left the alley and crashed his car until it fell and drove away.
What the bike surpassed Nai Nonthakorn, whose leg was congenital poliomyelitis Making him unable to help himself While trying to help lift the car During this time, there was an 18-wheel trailer driven by Anutin, who jumped and escaped, but Nontakon, hit by a car, was hit by a trailer while dragging a motorcycle.
But the second 18-wheel trailer that followed after the first car was driven by Mr Pramuan Niamhom, 50, and stepped back on Mr Nontakorn.
Preliminary police officer Bring the body back to the deceased for his autopsy Chaophraya Abhaibhubejhr Hospital I brought relevant people to investigate at Muang Prachinburi Police Station