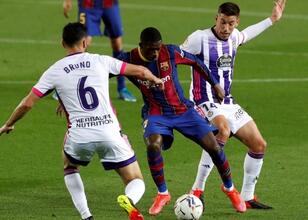 Barcelona hosted Valladolid in the League match of week 29.
Barcelona scored three points, winning the match at the Nou Camp 1-0 with a goal in the last minute.
Dembele scored in the 90th minute, which led to the victory in Barcelona in the first half of the match which ended without goals. On the other hand, Plano's Valladolid were shown a yellow card after 79 minutes for slicing down an opponent.
With this result, Barcelona managed to get its name in 2nd place by rising to 65 points in the league. Valladolid added 27 points.