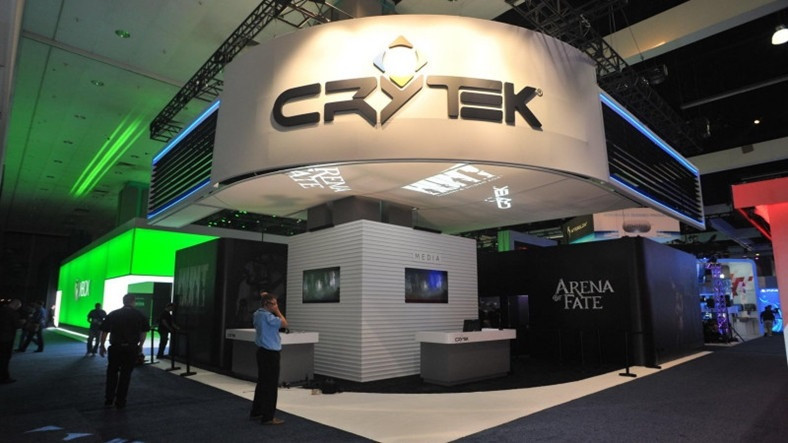 [ad_1]
Crytek will develop a new AAA game using SpatialOS. SpatialOS, which has become increasingly popular today, is a blessing to prepare for online games.
Crytek, the developer of the Crysis series and the game Hunt: Showdown, which was opened to access early, is working on a new AAA game. The new game is made with the SpatialOS system, a multiplayer platform in the Unlikely cloud.
Crytek We play the game with SpatialOS and our own game engine, CryEngine. Coming soon Çok It uses more, but it did not give more information.
In the same statement, Crytek also said he has prepared a space game development kit for CryEngine: "We have advanced. Automator, the developer of CryEngine, created its own open source integration in SpatialOS for Mavericks: Providing Ground, the next 1000-man battle game. SpatialOS is used in the MFT Worlds Adrift games of Bossa Studio.
SpatialOS can be used in all games that offer support in real time, from 2 to 10000 people with a specific start and end. SpatialOS games can also be developed for PC, Xbox One, PS4, iOS and Android. In this way, you can play games on all platforms with cross platform support.
Developed by Improbable, SpatialOS has recently begun to appear frequently in the news. This was mainly due to SpatialOS violating the terms of Unity's service. That's why game developers were worried that they could not develop SpatialOS games on the Unity platform, but these problems were solved later. SpatialOS no longer violates the Unity service terms.
Kaynak : https://www.pcgamer.com/crytek-teases-new-aaa-game-built-with-spatialos/
$ (Function () {
// Facebook window.fbAsyncInit = function () { fb.init ({ appId: & # 39; 1037724072951294 & # 39 ;, xfbml: true, version: & # 39; v2.5 & # 39; }); };
(function (d, s, id) { var js, fjs = d.getElementsByTagName (s)[0]; if (d.getElementById (id)) (return;) js = d.createElement (s); js.id = id; js.src = "http://connect.facebook.net/en_US/sdk.js"; fjs.parentNode.insertAterior (js, fjs); } (document, & # 39; script & # 39 ;, & # 39; facebook-jssdk & # 39;));
$ (& # 39; Body & # 39;). Ten ({ click on: function () { // save button ajax on Facebook If fb.xfbml.p (); } }, & # 39; .facebook-save & # 39;);
// Shift Sharing yes ($ (& # 39; content-sticky & # 39;). length> 0) { yes ($) (window). width ()> = 768) { $ (window) .on (& # 39; scroll & # 39;; function () { has scrollTop = $ (this one). scrollTop (); $ (& # 39; article & # 39;). each (function () { yes (scrollTop> = ($ (this) .find (& # 39;; content-body & # 39;). offset () top - 76)) { $ (Est) .find (& # 39; The sticky content & # 39;) AddClass (& # 39; apache & # 39;).; (($ (this) .find (& # 39;; content-body & # 39;). offset (). top + $ (this) .find (& # 39; content-body & # 39;). height ) - ($ (this .find (& # 39; content-sticky & .39;). height () + 92))) { $ (Est) .find (& # 39; The sticky content. & # 39;) RemoveClass (& # 39; apache & # 39;).; $ (this) .find (& # 39; content-sticky & # 39;). css (& # 39; & # 39;: & # 39; 0px & # 39;, & # 39; top & # 39;: & # 39; auto & # 39;}); } more { $ (Est) .find (& # 39; The sticky content & # 39;). AddClass (& # 39; sticky & # 39;). Css ({ & # 39;: & # 39; initial & # 39 ;, & # 39 ;: & # 39; 76px & # 39; }); } } more { $ (this) .find (& # 39; content-sticky & # 39;). removeClass (& # 39; sticky & # 39;). css (& # 39; & # 39; & # 39;: & # 39; auto & # 39;, & # 39; top & # 39;: & # 39; 0 & # 39;}); } }); }); } }
/ / share click $ (& # 39; Body & # 39;). Ten ({ click on: function () { var $ this = $ (this one), dataShareType = $ this.attr (& # 39; data-share-type & # 39;), dataType = $ this.attr (& # 39; data type & # 39;), dataId = $ this.attr ('id-data' ##;), dataPostUrl = $ this.attr ("date-post-url", # 39;), dateTitle = $ this.attr (& # 39; data-title & # 39;), dataSef = $ this.attr (& # 39; data-sef & # 39;);
switch (dataShareType) { case & # 39; facebook & # 39 ;: fb.u of ({ method: "share", href: dataSef, }, function (answer) { yes (response &&; response.error_message) { updatehit (); } });
to break;
case # twitter: shareWindow (& # 39; https://twitter.com/intent/tweet? via = webtekno & text = & # 39; + encodeURIComponent (dataTitle) + & # 39;% E2% 96% B6 & # 39; + encodeURIComponent (dataSef )); updatehit (); to break;
cas & gplus & # 39 ;: shareWindow (& # 39; https: //plus.google.com/share? url = & # 39; + encodeURIComponent (dataSef)); updatehit (); to break;
mail & # 39 ;: window.location.href = & # 39; mailto:? subject = & # 39; + encodeURIComponent (dataTitle) + & # 39; & body = & # 39; + encodeURIComponent (dataSef); // updatehit (); to break;
whatsapp & # 39; case window.location.href = & # 39; whatsapp: // send? text = & # 39; + encodeURIComponent (dataTitle) + & # 39;% E2% 96% B6 & # 39; + encodeURIComponent (dataSef); updatehit (); to break; }
share shareWindow (url) { window.open (url, "_blank", "toolbar = yes, scrollbars = yes, resizable = yes, top = 500, left = 500, width = 400, height = 400"); }
function updateHit () { $ .Ajax ({ write: "POST", url: dataPostUrl, Data: {contentId: dataId, contentType: dataType, shareType: dataShareType}, success: function (data) {
yes ($ (& # 39; video-showcase & # 39;). length> 0) { var $ container = $ (& # 39; video-showcase & # 39;); } more if ($ (& # 39; article[data-id="' + dataId + '"]& # 39;). length> 0) { var $ container = $ (& # 39; article[data-id="' + dataId + '"]& # 39;); } more if ($ (& # 39; wt-share-item[data-id="' + dataId + '"]& # 39;). length> 0) { var $ container = $ (& # 39; wt-share-item[data-id="' + dataId + '"]& # 39;); } more { $ container = null; }
// var $ container = dataType == & # video; $ (& # 39; video-showcase & # 39;): $ (& # 39; article[data-id="' + dataId + '"]& # 39;);
yes ($ container! = null & & $ container.length> 0) { var $ badged = $ container.find (& # 39; .wt-share-badge - & # 39; + dataShareType);
finds $ headerCount = $ (& # 39;. content-header & # 39;). find (& # 39;; wt-share-count & # 39;), $ containerCount = $ container.find (& # 39; .wt-share-count & # 39;), value = parseInt ($ containerCount.html ()) + 1;
$ container.data (& # 39; share & # 39 ;, value); //$containercount.html(value A);
yes ($ headerCount.length> 0) { //$headercount.html(value A); }
yes ($ badged.length> 0 && (dataShareType == & # 39; || dataShareType == & # 39; twitter & # 39;)) { yes ($ badged.hasClass (& # 39; is-visible & # 39;)) { //$badged.html (date A); } more { //$badged.addclass('is-visible').html (date A); } } }
} }); } } }, & # 39; .wt-share-button & # 39;) }); [ad_2]
Source link