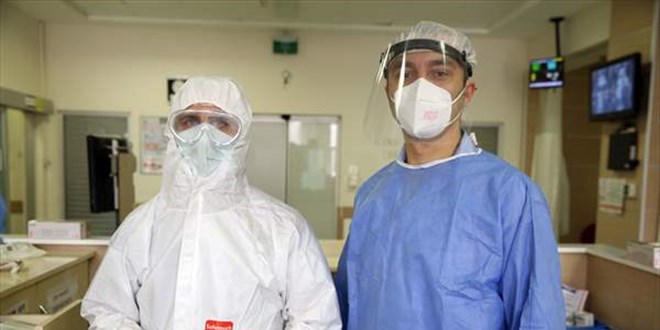 Mesut Şahin, Kovid-19 intensive care officer at Muş State Hospital, and specialist orthopedic and traumatology operator, Dr. Eren Uyan spoke of his selfless struggle and the difficulties experienced by patients.
Affirming that the disease is not over yet and that citizens should be more careful, Şahin said: "Covid-19 is a disease that can be transmitted to anyone without looking at old and young people. During the process intensive care, we saw the elderly and the young. " dit.
Şahin stated that citizens who make an appointment should be vaccinated.
"There is nothing to take lightly about this disease"
Şahin said they changed their protective clothing due to excessive sweating when they left the intensive care unit and said, "It's really a very difficult process. Although people can't even wear normal masks. "Outside, we carry monkeys in intensive care. In this process, people have to be very careful about them." He spoke.
Claiming that if the rules are not met, the healthcare community will wear out even more and there are times when they have difficulties.
"We also had patients who came to us on foot and lost their lives. We also had patients who came to the hospital in a very bad way, they listened to us, took the treatment properly and discharged them well. .There is nothing to take this disease.Conscious patients are scared when they see us with monkeys.We give encouragement to patients who come.I have lost my relatives and relatives in the intensive care unit for which I am responsible.It is very sad that he can't do anything. "
– "We saw young people aged 25 to 30 begging for it"
Operator Dr. Eren Uyan also stated that they had difficulty explaining the disease to people.
Uyan stated that he tried to isolate himself as much as possible from his wife and 2-year-old child who was pregnant during the illness, and said he was in pain as if there were wounds to his back and waist, and he he became unable to move: "I had no lung problems, but I experienced severe joint pain. I felt very weak. I was very afraid of infecting my son. I had to think about them more than my pain. and suffering. I had such a difficult process. " dit.
Uyan said: "We saw 25- to 30-year-olds begging us for service with breathless hunger. We're doing everything we can. Despite that, the fact that outsiders don't meet the rules of cleanliness, masks and distance really saddens us. " gave rise to his words.