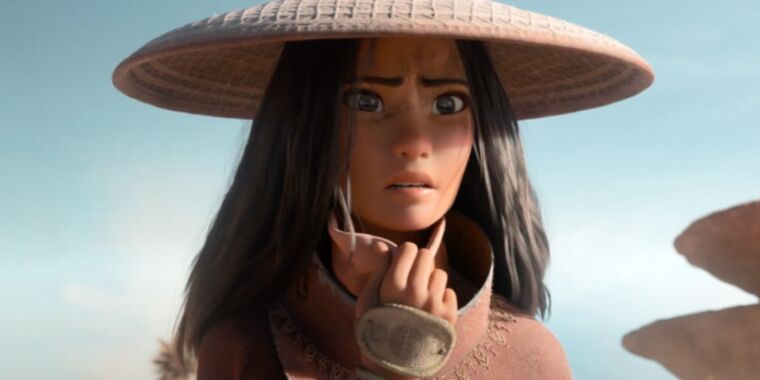 Disney has released the official trailer for its upcoming animated film, Stripe and the last dragon, with Kelly Marie Tran and Awkwafina voiced by the titular characters. It has the distinction of being Disney's first animated feature film to be developed remotely in response to the COVID-19 pandemic, working with home equipment and communicating primarily through Zoom. The pandemic also caused the film's release date to be changed several times. It is now scheduled to release on March 5, in both theaters and Disney + with first-class access.
Disney first announced the film during its D23 2019 show and introduced co-directors Don Hall (Big Hero 6, Moana) and Carlos Lopez Estrada (Frozen II, Blindspotting) to the D23 the following year. Kumandra's fictional fantasy land was inspired by various Southeast Asian cultures (Thailand, Vietnam, Cambodia, Myanmar, Malaysia, Laos, and the Philippines) and the production team traveled extensively to most of these countries to investigate the film. A Lao visual anthropologist also reviewed the final designs.
According to the official synopsis:
Stripe and the last dragon takes us on an exciting epic journey into the fantastic world of Kumandra, where humans and dragons lived together in harmony. But when an evil force threatened the earth, the dragons sacrificed themselves to save humanity. Now, 500 years later, the same evil has returned and it is up to a lone warrior, Raya, to locate the legendary last dragon to restore the fractured land and its divided people. However, along the way, he will learn that it will take more than a dragon to save the world; it will also require trust and teamwork.
In addition to Tran (The Last Jedi, Rise of Skywalker) and Aqua (Crazy Rich Asians, The Farewell) as Sisu, the water dragon, the star cast includes Alan Tudyk (Resident Alien, Firefly) as Raya's BFF and trusted "steed," Tuk Tuk, whom Hall has described as a cross between a widespread bear and "an insect version of an armadillo," by Entertainment Weekly. Gemma Chan (Crazy Rich Asians) gives voice to Raya's enemy, Namaari; Sandra Oh (On the side, Killing Eve) gives voice to Namaari's mother, Virana; Daniel Dae Kim (Lost, Hawaii Five-O) plays Raya's father, Chief Benja; Benedict Wong (Doctor Strange) plays a giant named Tong; Isaac Wang plays a ten-year-old "entrepreneur" named Boun; and Thalia Tran pays a small artist named Little Boy.
The trailer opens with Raya meeting Little Boy, seemingly abandoned in an alley, only to discover that the little scam artist has some formidable skills in martial arts and acrobatics. Recruit the whole thing for your quest to find the last dragon, along with Tong and Boun. But they are not the only ones looking for Sisu and when Raya finally finds her, Namaari and her followers are on the lookout. "You and the dragon come with me," Namaari declares, but Raya doesn't have it. "My sword here says we're not." We can probably expect an epic showdown between these two at the end of the film.
Stripe and the last dragon opens March 5, 2021, simultaneously in theaters and at Disney + (with main access) due to the ongoing COVID-19 pandemic.
Kelly Marie Tran puts her voice to Raya, a warrior princess who is training to become a guardian of the dragon jewel.

His trusted "steed" Tuk Tuk (Alan Tudyk) is partly a giant pill, partly armadillo.

YouTube / Disney

Raya befriends a seemingly helpless child.

YouTube / Disney

Little Nio (Thalia Tran) is actually a baby artist with some awesome martial arts skills.

YouTube / Disney

Benedict Wong puts his voice to Tong, a formidable giant who joins Raya's striped team.

YouTube / Disney

Another ally: Isaac Wang gives voice to Boun, a ten-year-old businessman.

YouTube / Disney

Daniel Dae Kim makes the voice of Chief Benja, Raya's father.

YouTube / Disney

A quiet moment between father and daughter.

YouTube / Disney

Raya sees a promising advantage in his quest for the last dragon.

A shipwreck in the middle of nowhere.

YouTube / Disney

Awkwafina puts her voice to Sisu, a water dragon and the last in her class.

YouTube / Disney

Raya discovers that myth is more impressive than reality.

YouTube / Disney

The team is agog.

YouTube / Disney

Sisu discovers that he can transform into human form.

YouTube / Disney

Gemma Chan gives voice to Namaari, Raya's enemy.

YouTube / Disney

Faced warrior.

YouTube / Disney

Stripe and its water dragon.

YouTube / Disney
YouTube / Disney listing image
Source link