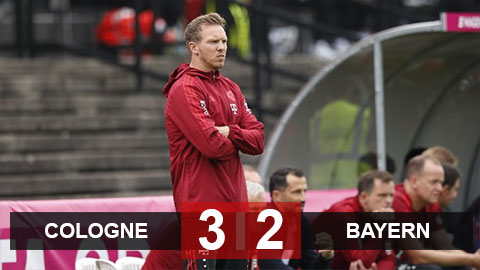 Goal
Cologne: Thielmann (20 '), Uth (27', 56 ')
Bayern: Thames (6 '), Circus (34')
Despite letting many new pillars meet their obligations with the national team to rest, Bayern still showed the level of an old man when he opened the scoring very early. With 6 minutes played, the 18-year-old Armindo Sieb had a fantastic opportunity to reply but his shot flew harmlessly into the side-netting of the goal. to react.
Still, the joy of Sieb and his companions did not last long. With 20 minutes played, Bayern's Thielmann almost extended the lead, but his shot from the left glanced off the top of the bar to fall behind the net. Without stopping here, just 7 minutes later, Cologne reversed the situation thanks to Uth's return and extremely skillful finishing phase.
The drama of the match continued to push when Bayern only needed 7 minutes to find the equalizer. In this situation, midfielder Taylor Booth had a pass from the right wing to the center for striker Joshua Zirkzee, 20, to catch a volley in the Bayern net.
After the break, both teams continued to play games and created many chances towards the goal. However, the scoreboard was only updated once again and the owner of this goal was still Uth. Catching the ball from Kainz's right wing, this player bounced high and hit the ground to block the Bayern goalkeeper.
Losing his debut with Bayern is obviously not a happy memory for coach Nagelsmann, but it is still too early to conclude that this young military leader is not successful on his new team. The simple reason is that it currently does not have the services of cult stars like Manuel Neuer, Joshua Kimmich, Thomas Mueller or Robert Lewandowski. According to the schedule, Bayern will also play friendly matches with Ajax, M'Gladbach and Napoli on July 24, 28 and 31, respectively, before entering the new season.
Template
Cologne: Horn – Ehizibue (Schindler 70 '), Mere (Schmitz 46'), Czichos (Hübers 75 '), Katterbach (Castrop 46') – Özcan (Ostrak 72 '), Hector (Skhiri 68') – Thielmann (Andersson 72 ') , Schaub, Kainz (Ljubicic 72 ') – Modeste (Lemperle 46')
Bayern: Ulreich (Hoffmann 46 ') – C. Richards (Lawrence 46'), Upamecano (Nianzou 46 '), Stanisic (Sarr 46'), O. Richards (Vita 46 ') – Rhein, Booth (Copado 46') – Zirkzee ( Cuisance 46 '), Scott (Mosandl 27'), Sieb – Choupo-Moting (Tillman 46 ')